King Crimson "In The Court Of The Crimson King"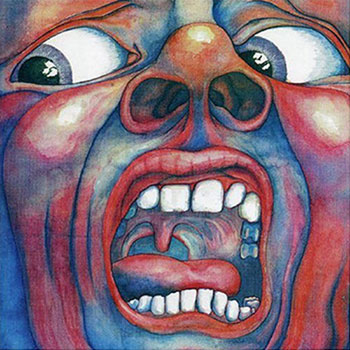 I bought In The Court Of The Crimson King straight after seeing Crimson support the Rolling Stones at the Hyde Park free concert in 1969. The then almost unknown Crimson delivered by far the strongest set of the day. I've listened to it periodically over the ensuing forty years, first on vinyl and latterly remixed on CD, and it still impresses me.
There are some fine musicians here. Bandleader and composer Robert Fripp can rock out on guitar with the best of the rest, but is happiest on avant-garde improvisations with a cool mellow tone. Drummer Mike Giles has all the jazzy chops. Bassist Greg Lake is also a clear-voiced, expressive singer. Probably the most talented member is Ian McDonald, who covers all keyboards and all wind instruments; a master of the Mellotron, his flute work is also particularly praiseworthy.
The album boasts but five tracks, all of which are basically straightforward songs on simple chord sequences with lyrics, courtesy of lyricist and poet Pete Sinfield, mostly incorporating the usual science-fantasy noodlings of the era, but with each song featuring a contrasting freeform instrumental section. "21st Century Schizoid Man" leads off with a nightmarish, distorted vision of a Michael Moorcock world, giving way to a fractured unison passage with impressive ensemble playing from all four musicians. "I Talk To The Wind" is a mellow, elegiac piece featuring gorgeous muted licks throughout from Fripp. "Epitaph," my favourite track, invites comparisons with contemporaneous Moody Blues, being a powerful song drenched in Mellotron strings. "Moonchild" is another mellow epic with a long coda in which Fripp's guitar holds an extended freeform conversation with McDonald's Fender Rhodes, while Giles politely tries to horn in on the discussion. "The Court Of The Crimson King", the band's signature tune, closes proceedings in powerful style, ending with a charming nursery pipe organ recapitulation of the main theme.
There's a lot of variation in dynamics here; the CD helpfully eliminates the annoyance caused by vinyl surface noise during the quieter passages. If I have any criticisms, they are minor: the use of a similar, slightly plodding 4/4 time signature  throughout, and the long coda of "Moonchild" perhaps rather outstaying its welcome. However, this remains a classic of early prog, and one arguably not bettered by any later lineup of Crimson. For immediately after the ensuing lengthy US tour, McDonald and Giles both quit, and Lake abandoned ship during the recording of the follow-up In The Wake Of Poseidon, leaving Fripp to build again from scratch. He probably didn't succeed at this level again till the brilliant Belew/Levin/Bruford guitar-based lineup of the eighties.

Original Vinyl | 1969 | Atlantic | search ebay ]


CD Reissue | 2004 | Discipline | amazon ]
Also Recommended