Leonard Cohen "New Skin For The Old Ceremony"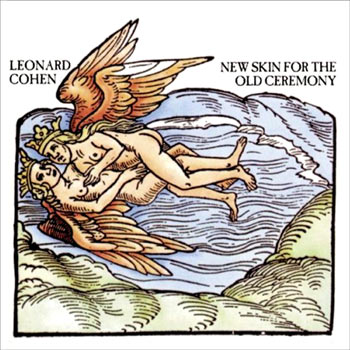 In 1974, Leonard Cohen hired producer John Lissauer to help him create the new sound for his songs. Moving away from the heavily reverberating, simplistic arrangements of Songs of Love and Hate (1971), Cohen uses large vocal ensembles, banjos, jews harp, heavy percussion, strings, and woodwinds to create a palate that is, in my opinion, finally equal to the depth of the writing itself.
The album opens with one of my favorite Cohen songs, "Is This What You Wanted." The record is probably worth its weight in gold for the horn arrangements alone during the first verse (listen, kids, right channel). Once the chorus kicks, with the broken, funky backbeat and the monotone call and response chorus, you know you have stumbled upon something brilliant. Although Rolling Stone called this record "not one of his best," I feel that it must be considered a classic. Coming in at track 2 is the controversial, beautiful, sex charged new york anthem, Chelsea Hotel #2. One of the few songs Cohen co-wrote, this track details the alleged sexual encounter between our Hero and the one and only Janis Joplin. Songs like "There is a War" bring out the louder, more politically charged side of this artist. While "Who by Fire" is a stunningly beautiful octave charged and simplistic male/female duet which borrows from traditional jewish prayer to ask the question of how will we all die.
Still want to listen? Good. Me too. Full of good funky 70's folk-rock production with a knack for the depressed and the overly beautiful, this record sings about all the necessary topics you need to get you through the end of march and bursting into the spring. Also, the cover art is so awesome that Columbia refused to press it on the first release of the record. And if Angels want to screw to this music, it can't be half bad.
Audio clip: Adobe Flash Player (version 9 or above) is required to play this audio clip. Download the latest version here. You also need to have JavaScript enabled in your browser.
"Is This What You Wanted"

CD Reissue | 1995 | Sony | mp3 Download
| Buy from Amazon
]


Original Vinyl | 1974 | Columbia | search ebay ]
Also Recommended