Los Brincos "Mvndo Demonio Carne"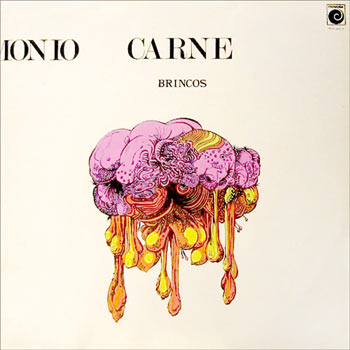 This band hailed from Spain and started releasing singles and albums in the mid 60's beat era. Some of their songs are sung in English but for the most part Los Brinco's vocals and lyrics are Spanish. Some fans prefer the Contrabando pop album but I personally think Mvndo Demonio Carne (World Devil Body) is their best and one of the great, unsung Spanish progressive psychedelic albums.
Carne found the band experimenting with a different sound and is one of the earliest Spanish albums of its kind. Many good experimental albums came out of Spain throughout the early to late 70's, in the wake of this great record. Brincos made it possible for these artists to experiment with different forms of pop/rock music and be taken seriously . The album's lead off title track is an engulfing psychedelic opus that goes through all different kinds of movements before its 12 and a half minutes has ended (with English lyrics/vocals). It's an excellent piece of music and probably Los Brincos's greatest achievement.
There are a trio of superb Spanish folk songs in Hermano Ismael, Carmen and Esa Mujer. The later two are notable for beautiful mellotron and string passages while Hermano Ismael is so wonderfully unpretentious and simple that it almost sounds out of place on the lp. Other winners are the funky progressive rock of Emancipacion and Jenny, La Genio (Jenny, Miss Genuis), a neat slice of Beatles inflicted power pop.
Mvndo Demonio Carne has been released on cd many times but the 2001 BMG disc is highly recommended. This disc has the original album along with alternate tracks sung in English and rare singles.
Audio clip: Adobe Flash Player (version 9 or above) is required to play this audio clip. Download the latest version here. You also need to have JavaScript enabled in your browser.
"Jenny Miss Genius"
More info:
There are three versions of this album and all are terrific. The BMG release is the Spanish lp with a bunch of bonus tracks, some of which are on the other two releases. The English version of World Devil and Body has a different cover and trades Butterfly, Kama-Sutra, Jenny, Miss Genuis, Carmen, Hermano Ismael, and Vive La Realidad for 4 different tracks – Promises & Dreams, If I Were You, Misery and Pain, and Body Money Love/Cheap, Cheap, Cheap. All four tracks are excellent, particularly the beatlesque power pop of Body Money Love and the hard charging raga rocker, If I Were You. Once again, this album is certainly mandatory listening for fans of psychedelia and progressive pop.
Audio clip: Adobe Flash Player (version 9 or above) is required to play this audio clip. Download the latest version here. You also need to have JavaScript enabled in your browser.
"Body Money Love"

CD Reissue | 2001 | BMG Spain | Search Amazon
]


Original Vinyl | 1970 | Search ebay ]
Also Recommended