Michael Yonkers Band "Microminiature Love"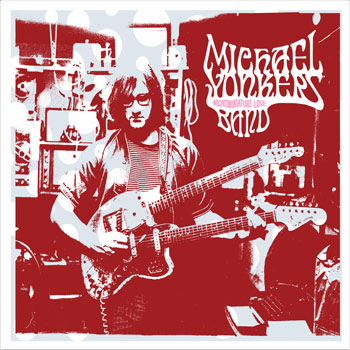 Minnesotan, Michael Yonkers recorded his Microminiature Love album in 1968, using an idiosyncratic approach to capture an assembly of original songs. The results are heavy! He and his group (The Michael Yonkers Band, featuring bassist Tom Wallfred & drummer/brother Jim Yunker) unleashed a new and original sound for these recordings – driven by raw alternate guitar tunings, heavy drums, mucho tape delay, unique vocal stylings & homemade electronics. The production is only part of the picture, however – the songs display original craftsmanship and are fueled by dynamic energies, pushing and pulling to high degrees. This album is built to reveal a true (& slightly dark) world inside; each new moment can draw you in deeper & it never really relents. Remarkably, the entire album was recorded in only one hour at Dove Studios in Minneapolis. Even more remarkable, perhaps, the record was not released for nearly 35 years.
Why this record went unreleased for so long is something of a mystery. Sire Records initially expressed interest in releasing it, but (according to MY, as revealed in Iker Spozio's interview from the excellent MORNING #2 magazine) they wanted Yonkers to move to New York City and re-record the material with studio musicians, something Yonkers wasn't ready to do. Local label Candyfloss Productions (who had recently released the excellent Trip Thru Hell LP by another MN act, C. A. Quintet) also reportedly expressed interest. Further complicating matters, Michael was still in college at the time & legally unable to sign his own record contract.
Thanks to Clint Simonson & Di Stijl records, the LP was finally released in 2002 as it was intended – seven tracks on vinyl. Sub Pop followed up with a CD release in 2003 that included 6 bonus tracks – all of which sound as if they were recorded at the same 1968 studio sessions (though they were home recorded the following year). Sub Pop did an excellent job selecting & mastering these extra tracks to fit the feel of MML.
A powerful record & one-of-a-kind.
Audio clip: Adobe Flash Player (version 9 or above) is required to play this audio clip. Download the latest version here. You also need to have JavaScript enabled in your browser.
"My House"

CD Reissue | 2003 |Sub Pop | at amazon ]


Vinyl Reissue | 2002 |De Stijl | search ebay ]
Also Recommended