Morning "Morning"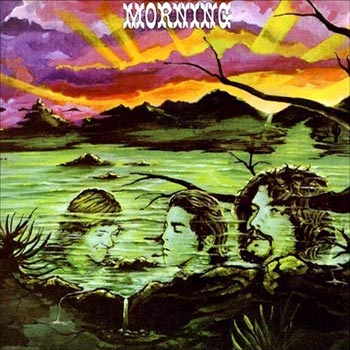 Morning's debut was released by Vault in 1970.  Thankfully, Wounded Bird Records has reissued this long lost album for the first time on cd.   Morning is full of dazzling performances, making it one of the mandatory LPs in the rural-rock/American roots/country-rock field.  While CSNY, Poco, and Band influences are unavoidable, this record is by no means derivative.  The band had its roots in several interesting 60s pop/garage bands, Wind and Moorpark Intersection being the most notable. These two groups would release a few decent 45's in the late 60's that are well worth tracking down.  The debut lineup looks something like this:  Barry Brown (guitar/drums/vocals), Jim Hobson (piano/organ/vocals), Jay Lewis (guitars/banjo/vocals), Jim Kehn (drums/guitar/vocals), Bruce Wallace (electric bass/string bass), and Terry Johnson (guitar).
Morning opens with "Angelena," a rural rocker with heartfelt vocals, gospel tinged keyboards, and an appealing wide open, outdoor sound.  "Time," another great track, is similar in feel and style, augmented by rich keyboards and moody vocals.  Both tracks are vaguely reminiscent of the Band's early work – definitely a good thing here.  While country-rock/rural-rock may be the group's main forte, Morning managed to record a few good psych tracks for their debut.  "Sleepy Eyes" stands out as their best piece of pure psychedelia.   Dreamy, with excellent dive bomb fuzz guitar work and lazy harmonies, this cut is great listening.  It's amazing these guys never found any sort of success, whether it be underground or top 40.  Other winners are the beautiful CSNY-like country weeper "Dirt Roads" and the superb country-rocker "Roll 'Em Down," which sounds like it could have easily been a top 40 radio hit.  Every track on Morning has something to offer, whether it beautiful harmonies or fluid West Coast-style guitar leads, it all sounds terrific – including the group's sharp, professional songwriting.  Also, while many of these tracks are quiet and tranquil, the band were definitely skilled musicians as heard on the tight group jam "And I'm Gone."  If you've worn out copies of Pickin' Up The Pieces or Deja Vu be sure to snatch up Morning, it's a near lost classic with plenty of great songs to spare.
With a little effort and some luck, good original copies of Morning can be found cheap.  I spent $15 on a NM original copy of this LP (to my knowledge they never made another vinyl repress) – it sounds great on the turntable!  Morning would release an accomplished sophmore effort, Struck Like Silver that is also highly recommended.  For more information please check out Nick Warburton's excellent essay on the band.
Audio clip: Adobe Flash Player (version 9 or above) is required to play this audio clip. Download the latest version here. You also need to have JavaScript enabled in your browser.
"Sleepy Eyes"
Early band Moorpark Intersection included future Morning members Jay Lewis, Jim Kehn and Terry Johnson.   Below is their 1968 Davide Axelrod produced single "I Think I'll Just Go And Find Me A Flower." This track can be found on Soft Sounds For Gentle People Volume 1.

CD Reissue | 2009 | Wounded Bird | amazon ]


Vinyl | 1970 | Vault | ebay ]
Also Recommended