Mouse and the Traps "The Fraternity Years"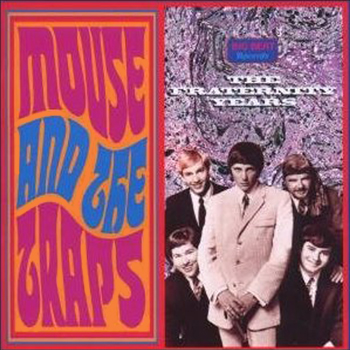 Yet another Texas group, the great Mouse and the Traps existed throughout the mid to late 60's, sadly never having a chance to release an album. They did record a bunch of singles though, some of which are under different names/alias'. This compilation covers most of their singles and some outtakes (contains 25 of the 30 or so songs they recorded).
Nearly all of these songs are good and well worth a listen. On single, they forged 3 unabashed classics: A Public Execution, Maid of Sugar, Maid of Spice and Sometimes You Just Can't Win (a soulful why me rocker). Public Execution was a song that many radio listeners mistook for Bob Dylan's next big single in 1966. This song as well as the excellent garage punk rocker Maid of Sugar, Maid of Spice has been anthologized on Nuggets. Public Execution, while a great song, is not the best on this superb compilation, sounding like a bubblegum garage version of Dylan's Like A Rolling Stone. The followup, Maid of Sugar, Maid of Spice is one of the greatest mid 60's hard rockers with a great speaker shredding, mind frying guitar solo. This legendary performance showed the band could tear it up, they were strong musicians and Mouse was a good singer who speckled his songs with clever lyrics.
The album runs the gamut, showing the Traps to be a diverse unit that played love torn country-rock, psychedelia, sunshine pop, tex-mex, blues-rock, folk-rock and garage-rock (all effectively). Nobody Cares and I Am The One really catch the ear as melodic folk-rockers with a defiant edge and great outsider lyrics. Also, I Satisfy and Beg, Borrow and Steal are psychedelia with tons of fuzz, crazied vocals and imagination. They even released a nice baroque pop/psych-pop single under the Chris St. John name.
The Traps had personality in spades and it's really strange how they did not succeed commercially/artistically. They ceased to exist by the early 70's and by then the dream had faded.
Audio clip: Adobe Flash Player (version 9 or above) is required to play this audio clip. Download the latest version here. You also need to have JavaScript enabled in your browser.
"Maid of Sugar, Maid of Spice"
Also Recommended