Neil Young "Tonight's The Night"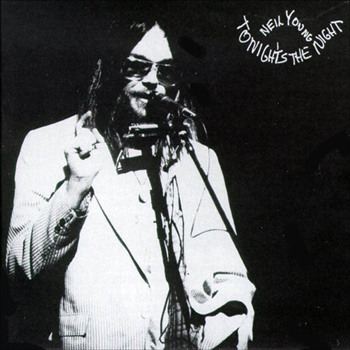 Easily my favorite Neil Young record.  I grew up not listening to Neil because I had never latched on to the sound of his radio hits. But a while back I got into his records (starting with On The Beach) and realized what a miss I had made. If you made this same mistake, go start with above record and make amends.
It's a bit seedy and a little drunk;  Neil tells it like it is on "Borrowed Tune": "..singing this borrowed tune…too wasted to write my own." When I first heard this late night piano confessional, a tribute to the Rolling Stones' Lady Jane, the final lyrics gave me the chills. Then they come in with "Come On Baby Let's Go Downtown,"  a remake of the rollickin' Crazy Horse tune, and you're sold. Easy as that.
It was recorded in 1973 and released in 1975. The whole record feels as if it was as loosely constructed as possible, like they just wrapped a couple of one-take sessions in newspaper and dropped 'em off at the video store. It's a masterpiece, on about loss, sorrow, and drugs. Apparently, this album was part of the 'Ditch Triology', an unofficial grouping of three experimental albums recorded after his initial commercial successes.
The first of the trilogy is a live record called Time Fades Away which still hasn't seen release. Give it a look @ aquariumdrunkard.com.
I love this song "Albuquerque." It make you think every city should have a song.
Audio clip: Adobe Flash Player (version 9 or above) is required to play this audio clip. Download the latest version here. You also need to have JavaScript enabled in your browser.
"Albuquerque"
[ under $10 used @ amazon
]
Also Recommended