NGC-4594 "Skipping Through The Night"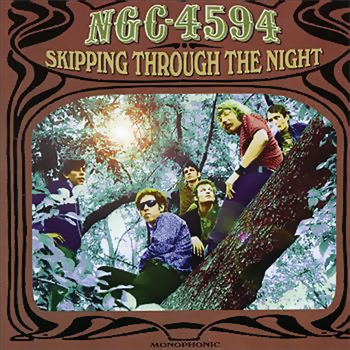 Here's another genuinely "lost" sixties psych album, laid down in 1967 but not seeing the light of public exposure until forty-three years later.
Coming together in '66 at the University of Connecticut in Storrs, these six students and alumni must have thought they had a stellar musical career in store, because not only did all the undergrads drop out of their courses but they took as their name the astronomical designation of the Sombrero Galaxy in the constellation of Virgo. This didn't exactly roll off the tongue, but in the trippy atmosphere of the times it conveyed a trendy spaced-out attitude. The auguries were however unpromising; while David Bliss, Steve Starger and Danny Shanok were all experienced pianists, Minty Collins wasn't even a musician though he was determined to become one, "liberating" a flute from the UConn Music Department and teaching himself the basics. Chas Mirsky contributed rudimentary but suitably whacked-out electric guitar, whilst to fill out the backline Starger switched to Farfisa organ and Shanok took the bass guitar. No-one came forward to be the featured vocalist, but drummer Bob de Vos proved to possess a creditable baritone and was duly pressed into the rôle.
The band assembled an acid-soaked collection of originals, mostly from the pen of pianist Bliss, relocated to Stanford, CT in January '67 and gigged their set around New England, honing their chops and tightening their act. In April they moved to NYC where they auditioned for Mercury and were invited to rapidly record their whole oeuvre live in the studio as a monophonic demo. From this two sides were selected for a single and re-recorded to professional studio standards. "Going Home" and "Skipping Through The Night" appeared as a 45 on Mercury's Smash subsidiary, garnered some desultory airplay on Northeast radio stations and disappeared. Despite a few subsequent high-profile concert appearances supporting the likes of the Doors and Country Joe & The Fish, the band's briefly-flaring star had passed its zenith and by the fall of '67 they'd split. It wasn't till the early 90s that Tim Page, a professor at UConn, much taken with hearing the play-worn single on the college's Campus Restaurant jukebox, would seek out former band members Mirsky and Starger and discover that the original tapes from the Mercury audition still existed. It took a further two decades before the estimable Tune In imprint of psych reissue specialists Cherry Red was able to license the tapes for CD release, along with both sides of the Smash single.
The two Smash tracks are carefully-produced, commercially-viable soft-psych numbers. The twelve "lost" album tracks, by comparison, are a revelation; given the uncompromisingly basic circumstances of their creation they shouldn't work but somehow they do, revealing a band on the cusp of garage R'n'B and psychedelia, given a fizzing veneer of excitement by the live-in-the-studio performance and unvarnished production values. Even the crude, play-in-a-day lead guitar, flute and harmonica figures contribute to the ambience rather than detracting, whilst Bob de Vos's Scott Walker-ish vocal is an unexpected asset. The leadoff "Colors" is definitive garage-into-psych with clichéd lysergic lyrics, ringing Wurlitzer piano arpeggios, hyperactive bass and fuzzed-up boxing-glove guitar. "Negative Zone" is Brit R'n'B straight out of the Pretty Things with wailing harp, cheesy Farfisa and rattling maracas framing its cod-protest lyrics. "Imagination Dead Imagine" offers a soporific, trippy mantra with spacey Floyd-style organ, jazzy piano fills and druggy flute and guitar leads, while "Forever Gone" is a doomy blues, heavy with eleventh chords on the Wurlitzer, reverbed vocals and a dragging surf guitar solo. The closing "So Bright" is a pulsating piano-driven rocker that strays into Moody Blues territory with stacked harmonies and flute colouration. All the other tracks provide energetic, freewheeling variations on these themes with plenty of tempo and instrument changes.
The In Tune reissue CD from 2010 is an excellent remaster and includes a comprehensive illustrated history of the band with input from Page and various former members.
Audio clip: Adobe Flash Player (version 9 or above) is required to play this audio clip. Download the latest version here. You also need to have JavaScript enabled in your browser.
"Colors"
Also Recommended