Norman Greenbaum "Spirit in the Sky"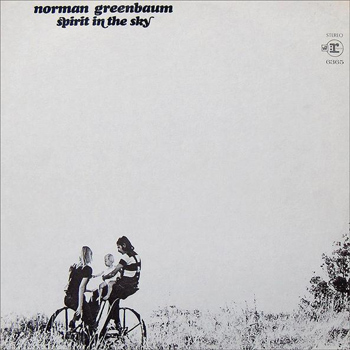 Folks are going to recognize the title track of this one, the buzzing slice of pseudo-religious boogie that made Norman Greenbaum…well, maybe not a household name, but at least established him as the voice behind one of the most recognizable tunes to come out of the 1970s. It is actually more than a little surprising that, despite having scored such a serious smash single, Greenbaum would be so quick to drop out of the public eye. Few people have given the rest of his recordings a fair shake, despite albums like Spirit In the Sky and Back Home Again housing a wealth of strong and joyful material.
Perhaps one of the reasons for this one-hit-wonder status is the fact that "Spirit In the Sky" was a little unusual within the context of Greenbaum's body of work (though not, I'd argue, to the extent that some critics have claimed). The spiritual lyrics would have appeared to herald a rising star in the nascent Jesus Freak scene, but in reality most of the man's music was a relaxed blend of rootsy Americana and long-haired west coast blues. The lyrics pretty much entirely avoid religion, instead delving into such diverse subjects as back-to-the-earth living, spectral ex-girlfriends, and "smoking the tars of India." Anyways, Greenbaum is Jewish. Go figure.
Though the cosmic guitar drone that drives Greenbaum's most famous tune is also conspicuously absent from the rest of Spirit In the Sky, there are all sorts of inventive musical sounds being explored here, from the sunny wah-wah guitar of "Tars of India" to the swirling analogue electronics which dart across both "Alice Bodine" and "Marcy." The former is a pretty haunting song, and impressively hard to pin down; the gurgling Moog and unusual lyrics would suggest disaster, but Greenbaum's good taste and ability to walk the line between humor and sincerity let it do its thing. The band here, headed by producer Erik Jacobsen (best known for his work with fellow jugband disciples The Lovin' Spoonful), is very tight, and really know how to get these songs to boogie. Cuts like "Junior Cadillac" and "The Power" even throw in a horn section for some pretty funky L.A. R&B. It's to Greenbaum's credit that these songs prove so memorable; indeed, this is one platter that burns all the way through. Just wait and see how many of these songs you find yourself humming after the needle's lifted.
Spirit In the Sky was most recently reissued in 2001 with a handful of bonus tracks, but if you can find it a now out-of-print import edition on Demon Records also includes the follow-up album Back Home Again, which is a little rootsier and also comes highly recommended. Before retiring to farm life, Greenbaum would record a last, 1972 album with Ry Cooder entitled Petaluma, but this one's a lot harder to find. I haven't heard it, so I'm not sure if it's as strong as the previous two, though I suspect it is. I mean, just check out that sleeve photograph with a grinning, overalled Greenbaum holding up a chicken. How could you possibly go wrong?
Spirit in the Sky
mp3: Tars of India
mp3: Marcy
Back Home Again
mp3: Hook & Ladder

Original | 1969 | Reprise | search ]


Reissue | 2001 | Varese | buy ]


Reissue | 2fer | Demon | buy ]
Also Recommended