Otis Redding "Otis Blue"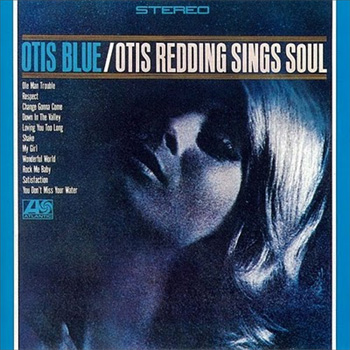 In 1965,  Otis Redding recorded and released his third studio album, Otis Blue: Otis Redding Sings Soul on the legendary Stax label's subsidiary Volt Records.  The album is considered by fans and critics alike to be Otis' masterpiece.  To me, it just may be the ultimate masterpiece of soul music, period.
The album begins with "Ole Man Trouble," a cry of desperation of a man who has had one too many demons on his trail.  In classic Otis Redding-style, this is a damn powerful and convincing song.  He is begging for some peace and contentment in his life.  In my opinion, this is one of the greatest opening tracks of any album of any genre.
The album continues with the original version of "Respect," one of Otis' own compositions.  For those of you who are only familiar with Aretha Franklin's rendition, you'll be in for a bit of a surprise (yes, it is quite different).  Otis Redding's original rendition of the classic tune takes on a life of its own, and is an all-out soul stomper.  Definitely a track worthy of cranking at maximum volume.
The album just keeps getting more and more fantastic as it goes on.  Track three:  Sam Cooke's immortal "A Change Is Gonna Come."  Now, as much as I truly love Sam's original version, nothing beats Otis' version.  The power in this man's voice as he sang this song is unbelievable.  This song, a classic Civil Rights anthem,  always reduces me to tears.  Otis, who was a huge Sam Cooke fan, covers two more of his compositions: "Shake," which is a great soul dancer, and the playful and tender "Wonderful World".  One thing was for certain, Otis showed the utmost of respect to his fellow artists by doing incredible covers of their songs.  "I've Been Loving You Too Long (To Stop Now)" is one of the greatest love songs ever made.  It's pretty hard to not be emotionally touched by that song.  I've always been a fan of Otis' love songs.  They don't sound sappy or weak at all.  Otis Redding sounded like a strong, real man who was comfortable with being emotional without sounding syrupy or weepy.
The other track on this album that gets me every time is the cover of the Stones' "Satisfaction."  Some background info on Otis' cover kind of goes like this: supposedly, Otis was not very familiar with the song, until the day came to record it.  The reason why Otis' lyrics differ so much from the original is because he actually barely knew any of the words!  Talk about true creativity!  The Rolling Stones wrote and recorded the song with Otis Redding and similar American soul artists in mind as inspiration.  Redding's rendition featured the horn section main-riff, which is what Keith Richards originally intended on doing.  The Stones were so impressed with this cover, that their later concert rendition of the song reflected Redding's interpretation.
The Stax players (Steve Cropper, Al Jackson Jr., Donald "Duck" Dunn, and so on) positively smoke on this record.  Steve Cropper's biting and nasty Telecaster sound just screams.  Pay particular attention to the all-out sweaty 'n' gritty blues workout, "Rock Me Baby."  These guys were jamming hard in that little studio!
Since Otis Redding is probably my favorite solo artist of all-time, I'd recommended all of his recordings to a beginner.  However, I'd have a hard time not recommending this album as the starting point. To me, and many others, this album truly embodies the classic Stax sound.  A gem.
Audio clip: Adobe Flash Player (version 9 or above) is required to play this audio clip. Download the latest version here. You also need to have JavaScript enabled in your browser.
"Rock Me Baby"

CD Reissue | 2008 | Rhino | buy here ]


Vinyl Reissue | 2001 | Sundazed | buy here ]


Spotify link | listen ]
Also Recommended