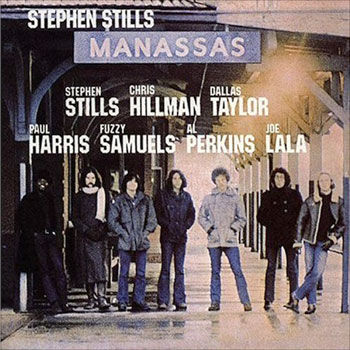 Check out the album cover. Now, that, is boss! It's kind of grungy, got every player's name just as big as the title; it's almost as if they decided to call the album Manassas because it happened to already be on the photograph. To me, it says, "Look, the 60s are over, we're not making some artsy album, we just got a kick-ass crew here and we're going to play it straight up for ya." Yup, got to give it up for that classic album cover.
I figured this would be a good album with which to introduce the country rock angle of this here blog. But Manassas (technically the band and album name) goes a bit beyond simple categorization here. The album is divided into 4 parts, as briefly described below:
The Raven
Imagine you walk into a bar, and the dudes pictured above are all rocking. Yeah, ok, great, another bar band. But as soon as you order your beer and take your first sip, you suddenly realize you're not blabbing on as usual, and nobody else is either, because the whole audience, yourself included, is entranced with the bar band, who, to your ultimate surprise, has been teaching your heart to pump to a new rhythm.
The Wilderness
Where I'm from, the kids used to say the same thing all the time: "I like all music… except for classical and country of course." Hate to say I may have been one of them, but things changed when I finally caught the country bug… and my music collection started to get a lot better too. If you find the need to skip this whole section, basically straight-forward bluegrass and country music, the album is still worth your while, but I wouldn't skip this part for my life, nor would I recommend skipping it.
Consider
This is the part you want to be driving on the open road with. By the time we get to How Far, it starts to feel like a folk-tinged shadow of the first section, but by now we're firm believers. Damn, I'm glad I got this album, we say. And we keep driving on with that long-reaching look in our eye.
Rock & Roll is Here to Stay
And just when we thought we had made it, Manassas puts the nail in the coffin. Just in case you were braindead for the previous fifty minutes, the 8:00 minute Treasure is here and will serve to remind you what is going on.
Typically, an album this ambitious just couldn't be good. No way could they pull it off. But, damn it all, Manassas really hits the spot, and it sounds great today. It's hard to imagine rock music that makes you feel so good it's like you already knew the tunes, but this is it.
Audio clip: Adobe Flash Player (version 9 or above) is required to play this audio clip. Download the latest version here. You also need to have JavaScript enabled in your browser.
"Anyway"
Go on and Get it