Pete Dello "Into Your Ears"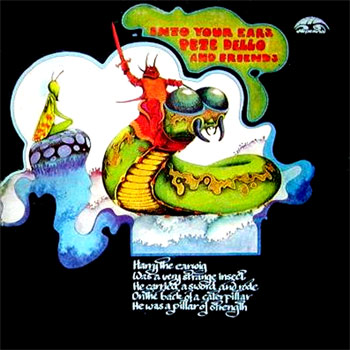 Pete Dello was the original leader of the Honeybus, a short-lived but wonderful English baroque-pop group who only managed to release one album in 1970 (finally reissued in 2008-). For all the gems available on compilations like Honeybus At Their Best
and She Flies Like A Bird: The Anthology
, fans of their brand of summery, rootsy pop couldn't be truly satisfied without an ear on Dello's fine solo efforts.
Comparisons to the Beatles are somewhat unavoidable, from the next-level songwriting to the double-tracked voice, chamber orchestra production, but assertions of cheap imitation are unacceptable. Dello's album is a pretty mix, most songs led with a clean acoustic guitar or piano, flavoring the sound with modest string and brass sections. This is where the record gets its baroque tag, but at times the music, like Honeybus, approaches a country-folk-rock sound. Tracks like I'm A Gambler illustrate that perfect mix of rural rock and sunshine pop, blessed with some especially tasteful percussion. The trick to the record's charm may be the Nilsson inspired vocal treatments, either Dello's unassuming lead or the lilting vocal turns and harmony parts.
I wouldn't call it a perfect record, but it gets pretty close and grows to be very solid. Pete scored with his first Honeybus single, I Can't Let Maggie Go, and gets a chance at a full showcase with Into Your Ears. Only a couple tracks push the British camp too much for my ears, so take note if you're fond of skipping sillier tracks. If you're looking for gems, you'll be right on target.
Audio clip: Adobe Flash Player (version 9 or above) is required to play this audio clip. Download the latest version here. You also need to have JavaScript enabled in your browser.
"It's The Way"
Also, don't miss a generous lot of Honeybus-related mp3s at Colin Hare's official Honeybus homepage.
Also Recommended