Phil Ochs "Pleasures Of The Harbor"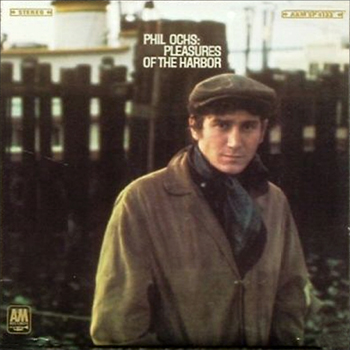 Phil Ochs (pronounced "oaks") had a practiced and stark folk vocal, with deep and pretty vibrato, which makes a bizarre contrast to his pointed lyrical content. I don't know what it was like to hear this music in 67, but I'm not saying I wish I could have. When people refer to music as 'dated' it's a turn-on; good records are timeless and it's our ears that are 'dated.' Besides, it wasn't that long ago. Forever, however, I am going to keep diving back in time for discoveries as rich as this one.
Today, I'm posting a longer track. I can't get it out of my mind. "I've had her, I've had her…" Two listens to Pleasures Of The Harbor hooked me. It becomes a sing-a-long record, with catchy choruses: "She's a Rudolph Valentino fan, and she doesn't claim to understand, she makes brownies for the boys in the band." Despite the importance of a memorable refrain, the poetics are sprinkled within the verses.
Songs have the smoky sound of a dark bar. At times shifting in mesmerizing harpsichord, brass, winds, and strings. Joseph Byrd contributes electronics on the final track. A soft lounge combo and it sounds on the lighter side of things, but Ochs has this hard edge you can't escape.
Elektra put out his protest record, I Ain't Marching Anymore, recently on vinyl so it would be nice see a similar treatment to the above, though I found mine for a few bucks at the shop. It makes more sense to hear Phil stretching his vox over a violently stroked acoustic, but this album is gorgeous and impossible to get over.
Audio clip: Adobe Flash Player (version 9 or above) is required to play this audio clip. Download the latest version here. You also need to have JavaScript enabled in your browser.
"I've Had Her"

Original Vinyl Search | ebay ]
Also Recommended