Poco "Deliverin'"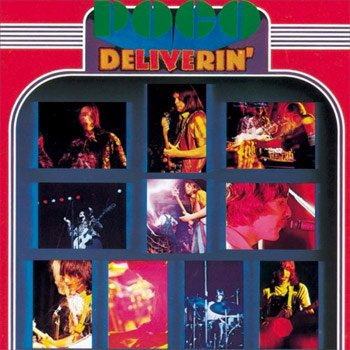 Poco's first two studio albums and Deliverin', this live set from 1971, represent some of the best country-rock laid down to wax.  These tracks were taken from two recorded live shows: Boston's Music Hall and New York City's Felt Forum.  If you're into this kind of music, Deliverin' represents a kind of peak or pinnacle for the genre.  If only for the powerful playing, tight performances and Rusty Young's brilliant, often underrated steel guitar work.  It's easily one of the best live discs of its time; a better played and more enjoyable listening experience than say the Rolling Stones' Get Yer Ya Ya's Out.  Furay and Messina are in great spirits too, often lifting the mood and interplay between the musicians.  That's what makes Deliverin' so essential; the positive attitudes and vibrant mood of the musicians.  This music soothes the soul and lifts spirits; it's good listening when you're having a bad day or going through the motions.  But there's also depth here too, these tunes will stick in your head for days.
Deliverin' is high energy, hard hitting country music that mixes new group originals with tracks from Poco's first two albums and a few Richie Furay penned Buffalo Springfield era gems.  "Kind Woman", a great, great song, is given a 5 minute rendition while "A Child's Claim To Fame" is the center of a brilliant medley which also includes "Pickin' Up The Pieces" and the awesome "Hard Luck."  They rock the hell out of album opener "I Guess You Made It" and nearly burst into flames on an acoustic version of "You'd Better Think Twice," which was one of their all-time classics (a small radio hit too).  Deliverin' ends with another great medley that is mostly comprised of songs from Poco's superb debut.
Not a wasted moment here.  This is Jim Messina's swan song with the group as he would leave shortly after, forming the Loggins & Messina duo with Kenny Loggins of course.  Deliverin' shows us why Poco was one of the great American bands.
Audio clip: Adobe Flash Player (version 9 or above) is required to play this audio clip. Download the latest version here. You also need to have JavaScript enabled in your browser.
"Medley: Hard Luck/A Child's Claim To Fame/Pickin' Up The Pieces"

CD Reissue | 2008 | Sbme | at amazon ]


Original Vinyl | 1971 | Epic | search ebay ]


Spotify link | listen ]
Also Recommended