Pure Prairie League "Pure Prairie League"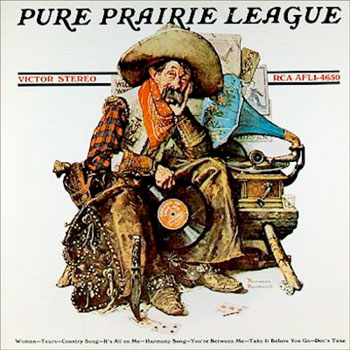 After spending the sixties ruthlessly disparaging country music, I experienced a Damascene conversion on catching the Eagles' groundbreaking 1972 appearance on BBC TV's Old Grey Whistle Test. Country rock, its reluctant antecedents and its bastard children became, and have remained, my favourite musical genre ever since, taking in everything from the Carter Family to the Drive-By Truckers. Yet the first I knew of Pure Prairie League was when I found out that Vince Gill had come to prominence with an early-eighties version of the band. PPL's story is one of a couple of early near-misses at commercial success, followed by a long history as cult favourites with a small but faithful following, a bewildering sequence of line-up changes and periods of non-existence. After incarnations during which it contained not even one original member, the band prevails to this day, centred round prodigal returnee, founder Craig Fuller.
Originally coming out of the unpromising country-rock territory of Columbus, Ohio, the first stable line-up was led by principal singers and writers, lead guitarist Fuller and acoustic guitarist George Powell, and produced a sound not a million miles from the definitive LA country rock style of early Poco. The addition of pedal steelist John David Call strengthened the resemblance still further, but also allowed Fuller and Call to trade licks in a highly personal conversational style harking back to Western Swing. Their eponymous debut album appeared on RCA in March 1972, but after just one short national tour promoting it Fuller received draft papers and felt obliged to relocate rapidly to Toronto. The band promptly split, leaving the album largely unheard, and it disappeared without troubling the charts. This was a shame, because PPL could certainly have been as big as their Californian contemporaries: they had a memorable name (borrowed from the fictitious ladies' temperance organisation in the Errol Flynn Western Dodge City), a distinctive image (reinforced by their logo featuring the Norman Rockwell cartoon cowboy character "Luke") and undeniable chops as writers, singers and players. Moderate commercial success did come with the second album Bustin' Out, recorded in October 1972 by just Fuller and Powell with session musicians and friends, but not until its re-release more than two years afterwards on the back of a hard-earned new popularity resulting from the reformed band's gruelling touring. RCA did re-sign them and released a series of further albums throughout the seventies, but these generally failed to light up the record store tills.
Notwithstanding this, all of PPL's recorded legacy is, perhaps surprisingly, still in print. The sophomore Bustin' Out is a more mature album offering a more varied, more rock-oriented menu as befits its shifting personnel, plus the novelty of string arrangements by Bowie sidekick Mick Ronson. Personally, however, I prefer the inexplicably unappreciated debut's softer, warmer, more countrified sound, with its ubiquitous lush harmonies and pedal steel licks and the occasional "blue" chord. The instrumental break in the gently swinging "Take It Before You Go" forefronts the interplay between Fuller's squealing six-string and Call's sinuous steel, while "Woman" is a magnificent guitar-driven song with power-pop overtones, and the closing "It's All On Me" highlights Powell's elegant fingerstyling and recalls the Byrds' "Chestnut Mare" period. Available at the time of writing are an Acadia twofer comprising the first two albums complete and a Camden anthology which includes most of the debut, all of the follow-up and selected later cuts. Admirers of the Eagles, Poco, the Dirt Band, the New Riders, etc., should apply; they won't be disappointed.
Audio clip: Adobe Flash Player (version 9 or above) is required to play this audio clip. Download the latest version here. You also need to have JavaScript enabled in your browser.
"Take It Before You Go"

Orig Vinyl | 1972 | RCA Victor | search ebay ]
Also Recommended