Ray Manzarek "The Whole Thing Started With Rock & Roll Now It's Out Of Control"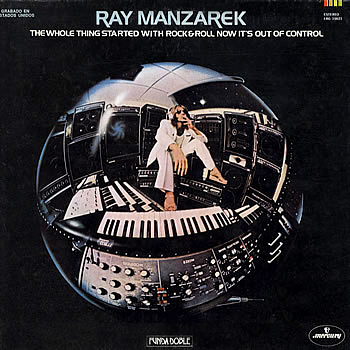 What do you do after you've been a member of the one of the most (in)famous American bands of the late sixties? Well, you try for a solo career . . . but the whole frequently proves to have been bigger than the sum of the parts, and the parts often wither on the vine. Despite his acknowledged keyboard genius and compositional talents, bespectacled former Door Ray Manzarek found life tough as a name recording artist: his two solo albums from 1973 and 1974 failed to ignite the charts, and his later career mostly consisted of collaborations with other artists and sessions in the producer's chair until he finally reunited with Robby Krieger for live dates after three decades. The '73 album, The Golden Scarab, was a complex, cerebral, mostly instrumental concept album that received generally unappreciative reviews despite contributions from LA jazz royalty including Larry Carlton, Jerry Scheff, Milt Holland and Tony Williams. For the follow-up Manzarek selected a safer template, the prevailing vibe on The Whole Thing Started being funky jazz-tinged rock akin to what Steely Dan were also doing at the time, with Manzarek handling lead vocals on lyrics mostly penned by long-time Doors manager Danny Sugerman, and the guest appearances now included Joe Walsh on guitar, Flo & Eddie (Mark Volman and Howard Kaylan) on backing vox and a then unknown Patti Smith reading a fragment of Jim Morrison's posthumous poetry. Sadly, this didn't prevent it following its predecessor into oblivion.
Despite its promising moniker, the title track is an undistinguished piano shuffle boogie with flat horn stabs and clichéd lyrics, and Manzarek's rather thin, pinched vocal does it no favours. From that point on things improve rapidly; "The Gambler" has a fine rolling Fender Rhodes rhythm not unlike later Deep Purple material, an exciting octaved bass line, charming celeste touches and a splendid Hammond solo also reminiscent of Jon Lord's sound, and the compressed, taut vocal, though hardly Ian Gillan, doesn't detract. "Whirling Dervish" is a cheery Zappa-like instrumental in alternating 9/8 and 12/8 metres with lots of modulations and soaring, saw-edged soprano sax from guest John Klemmer; the Eastern-inspired middle section pulsates with oriental percussion and keyboard modes and the only disappointment is that the track fades far too early. "Begin The World Again" is certainly redolent of Steely Dan, being driven by funky Clavinet with tongue-in-cheek female backing vocals and tremendous bass guitar work by resident low-end factotum Nigel Harrison. "Art Deco Fandango" is a slight but enjoyable New Orleans-style swinger with a chanted refrain à la Cab Calloway and more excellent woodwind playing. On "Bicentennial Blues (Love It Or Leave It)" Manzarek deliberately revives the spirit of the Doors; the verses employ a throbbing Wurlitzer groove whilst the central instrumental section offers a definitively Doors-style alternating-minor-chord spine with ostinato bass (played by Harrison, not by Ray on his Rhodes bass keyboard) over which Manzarek dusts off his old thin, reedy Vox Continental sound for a great solo in which he even shamelessly quotes the classic motif from "Light My Fire". "I Wake Up Screaming" and "Perfumed Garden" are slighter fare musically but feature interesting gimmicks; the former includes the aforementioned Patti Smith recital, and the latter employs the simulated (?) soundtrack of a mutual sexual climax.
Still musically active, Manzarek's most recent projects include two collaborations with blues guitarist extraordinaire Roy Rogers. I've not heard these but various opinions imply that they fail to emulate the experimental spirit of his seventies solo albums, which having been revived on CD by UK reissue specialists Cherry Red's Lemon imprint certainly deserve reappraisal. Fans are also recommended to read Manzarek's autobiographical Light My Fire: My Life With The Doors which despite its desperately unoriginal title is an articulate, uninhibited and thoroughly entertaining first-hand account of his own early life and the rise and fall of arguably America's finest ever rock band.
mp3: Bicentennial Blues (Love It or Leave it)
mp3: Whirling Dervish

Original | 1974 | Mercury | search ebay ]


Reissue | 2005 | Lemon Records | buy ]
Also Recommended