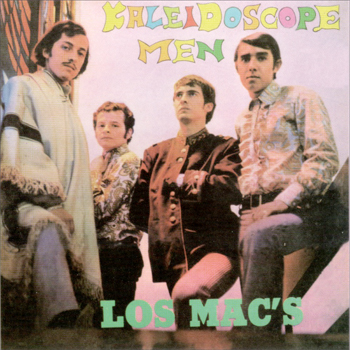 Los Macs may very be one of the crown jewels of South American psychedelia. Born out of the bright, rambling port town of Valparaíso, Chile, the band first gained acclaim playing rock and roll classics on the local bar scene before eventually becoming engulfed in the international wave of lysergia kicked off by the Lonely Hearts Club Band. Kaleidoscope Men is arguable their magnum opus in this regard, a heady mix of ramshackle garage, folk-rock and sound experiments sung in heavily accented English as well as Spanish. The track "La Muerte de Mi Hermano," or "The Death of My Brother," penned for the band by noted Nueva Canción writer Payo Grondona, was even a national hit, managing to combine left-wing political sympathies and interpolated tape samples with an extraordinarily catchy beat-group chorus. On the strength of this single, the album was to become one of the group's most enduring successes, and it is not uncommon for Chileans to still recall Los Macs brief blip in the charts.
A caveat, however: one should not go into this record expecting the artistic budget and sophistication of Sergeant Pepper, despite the many comparisons. At their heart Los Macs were always a garage band anyways, and their musical vocabulary never strays far from a classic Nuggets-family groove. Raw, jangly guitars predominate, with occasional overdubs and tape reversals providing a little local color. Perhaps the closest parallel I can find is the one and only Rockets album, as each band maintains a similarly tight and screwy groove. Standouts tend to come with the more ambitious pieces, such as the extremely Harrison-esque "Atravéz del Cristal" and the album-closer "Nada Dulce Niña," with its orchestral flourishes and astral organ blips. "F.M. and C.I.A." rides free and easy, despite having what may be strident left-wing political lyrics (in the given recording the vocals are pretty unintelligible, so it's hard to say whether this is in fact a scathing indictment of United States media control in Chile or just another teenybopper love song. I like to pretend it's both). It's unfortunate that the band did not compose more of their material in Spanish, as the musicians' own language better serves their material, but this artistic compromise is at least somewhat understandable considering the stranglehold English-language pop music had on the Latin American market at the time (and still does, unfortunately).
If there is one serious fault to Kaleidoscope Men then it's the album's rather disjointed nature. Whereas contemporary recordings in this vein tended, almost as a rule, to explore various styles and modes, such disparity was generally bridged by a unifying sound or theme. Los Macs have concocted a solid batch of material, but many of the actual recordings sound as though they may have come from different sessions or periods in the band's evolution. "La Muerte de Mi Hermano" is a good case-in-point. The sound effects that bookend the song could have served to clear the gap between it and the following piece, the much crisper, baroque-tinted ballad "Anne Marie," but the band fails to make use of any such transitions and instead opts for a rather abrupt cut. This in turn slips into the frenetic garage rock frenzy of "Tension Extrema," with a zooming fuzz guitar lead and  rough, filtered vocals. Taken piece by piece, there's nothing to complain about; it's only when these disparate elements are pieced together under one name that it starts to get a little jostling.
Kaleidoscope Men has been reissued several times under varying circumstances, including a Chilean compact disc issue with bonus tracks and a Japanese mini-LP version that adheres to the original tracklist. You're probably going to have a hell of a time finding an original vinyl copy in Europe or the United States, seeing as how the band failed to make any commercial inroads outside of Chile, but these latter-day issues are more than work seeking out for yourself, and help revisit an important puzzle piece in the development of South American rock and roll.
mp3: Atravéz del Cristal
mp3: El Amor Despues de Los Veinte Ano

Original | 1967 | RCA Victor | search ebay ]