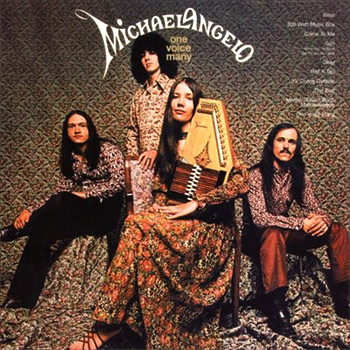 The use of the humble autoharp in rock may come as a surprise. Isn't that the triangular doodad your elementary school teacher used to pull out of the cupboard to strum along to class sing-a-longs of "Go Tell Aunt Rhody"? And why take an instrument specifically designed for simplicity and bust a gut to play complicated stuff on it? Nevertheless, several intriguing instances of its use have come to light on rare albums from the late sixties and early seventies.
A zither is a small harp with its strings stretched across its soundbox; it has a beautiful, ethereal ringing sound, but is fiendishly difficult to play. To simplify matters, someone came up with the idea of spring-loaded bars that could be pressed down on to the strings so that felt pads under each bar deadened all the strings except those needed to sound a certain chord. Thus the "auto-harp" was born, and bingo – a simple rhythm instrument with from 3 to 21 chords, each available at the press of a button. Almost immediately other folks started working out how to put all the complexity back into the autoharp by using it for playing melodies, and some of those Appalachian guys got pretty good at this despite the instrument's patent unsuitability for this purpose. Then a genial sixties folksinger called John Sebastian customised his harp with an electric pickup, and rock autoharp was born. Sebastian's playing was fairly limited, but a certain Billy Miller developed an astonishing electric autoharp technique with his late sixties Texas psych outfit, Cold Sun.
Classically-trained pianist and autoharp enthusiast Angel Petersen probably never heard of Billy Miller, but she certainly caught John Sebastian toting his harp around the Village and forthwith obtained a similar electric 15-bar model, making it the centrepiece of the mildly psychedelic folk-rock combo she christened Michaelangelo, after the name she'd already given her harp. In 1971 Michaelangelo (the group) came to the notice of Columbia Records through a fortuitous meeting with electronic music producer Rachel Elkind and her partner, the synthesiser genius Wendy Carlos of Switched-On Bach fame. An album, One Voice Many, was cut in New York with Elkind and Carlos producing, and the band's major label future should have been assured. However, the story goes that Columbia president Clive Davis was perpetually at loggerheads with Elkind and conspired to have the album suppressed. It was released but received absolutely no record label backup and quickly disappeared. Dispirited, the band dissolved soon afterwards and the album became a collector's rarity until reissued on CD almost forty years later.
Although likely to be described in current-day reviews as Acid Folk, One Voice Many's signature sound is predominantly folk-Baroque, with the autoharp frequently sounding more like a harpsichord than the Fender Rhodes-like tone of Billy Miller, particularly on the Bach-influenced instrumentals "Take It Bach" and "300 Watt Music Box". Elsewhere, it sounds not unlike a Farfisa organ. Either way, there's nothing remotely schoolmarmish about Petersen's virtuoso playing. The picture of the band on the cover shows an earnest, studious-looking quartet, and the carefully-arranged music within generally bears this out, though it's by no means sombre and there are some rocking and even exhilarating touches. The autoharp's main foil is Steve Bohn's clean, countrified electric guitar, and the two frontline players interweave their lines exquisitely within the four instrumental numbers. On the six songs, Petersen's and Bohn's respective lead vocals are workmanlike rather than attention-grabbing, but when harmonised and multi-tracked they produce a breezy, floating Harpers Bizarre-style texture. The highlights for me are the opening funky country-rocker "West", the tinkling, twinkling "300 Watt Music Box", the pulsating generation-gap rocker "Son (We've Kept The Room Just The Way You Left It)" and the shameless sunshine pop of "Okay" with its whistled accompaniment. Avoid the 2007 Fallout bootleg and go for the 2009 Rev-Ola licensed pressing.
Audio clip: Adobe Flash Player (version 9 or above) is required to play this audio clip. Download the latest version here. You also need to have JavaScript enabled in your browser.
"Son (We've Kept the Room Just the Way You Left It)"

CD Reissue | 2009 | Revola | buy here ]


Original Vinyl | 1971 | Columbia | search ebay ]