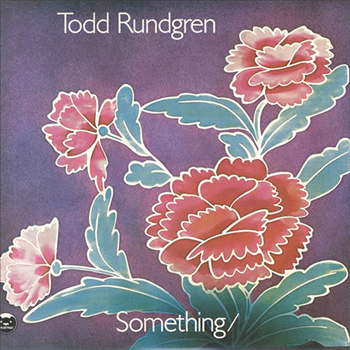 Released in 1972 as Todd Rundgren's 3rd solo album, all the parts were played and produced by Runtgreen himself, excluding side 4 which was performed with a backing band. Though most of it would feel about right on Lite 97, there's no denying the cool, and when people doubt you for throwing it on, they miss the point.
The big hits here are "I Saw The Light," easily recognized from pop radio, and the beautiful Nazz redo, "Hello It's Me." Electric bass guitar, piano and electric keyboard, clean drums, a variety of percussion instruments, large-scale vocal layering comprise some elements on these familiar, warm tracks. Furthermore, some rockist yelps in "Slut" and "Piss Aaron" and straight up weird songs like "I Went To The Mirror." It's a long double record, so we have tracks like the vocoded "Breathless," the Wurlitzer (?) led "Carousel Burnt Down" with its psychy meltdown. Elsewhere: bits of dialog and blubs, tricks with analog tape, all sorts of things you would do with a pet project, I guess.
This is one of those records that if trimmed from a double album to a single album would have been utterly perfect.
Todd Rundgren is a gift to the history of recorded music and we better just buckle down and get used to the record. The Beach Boys are universally cool now, so there's no reason to deny this light pop masterpiece. Previously we covered Todd's brilliant A Wizard, A True Star.
Audio clip: Adobe Flash Player (version 9 or above) is required to play this audio clip. Download the latest version here. You also need to have JavaScript enabled in your browser.
"The Night The Carousel Burnt Down"
[ Purchase from Amazon
| search eBay ]