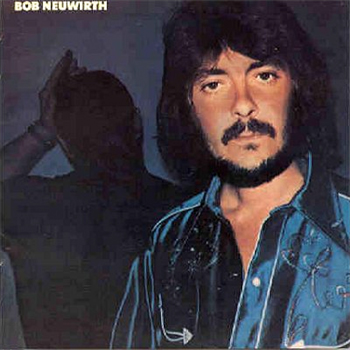 Bob Neuwirth has a reputation as one of rock's First Division liggers, pluggers and hangers-on, primarily through his notorious relationship with Bob Dylan. His principal talent is for fine art, and it was while studying painting in Boston that he became interested in folk music and mixed with the Cambridge coffeehouse community whence he became Dylan's longtime sidekick. Neuwirth appears as The Zim's alter ego in Don't Look Back, and the partnership would endure into the 70s when he served as tour manager for the Rolling Thunder Revue. Over the years he's also shared the confidences of such disparate performers as Janis Joplin, Kris Kristofferson, T-Bone Burnett, Patti Smith and John Cale. Although he's an abstract painter by profession he's maintained a continuous connection with music and musicians as occasional songwriter and sometime record producer, but he purposely avoided being recorded himself for years and his personal output on wax has been thin: five albums to date, four of these from 1988 on plus this isolated oddball effort from 1974.
The story behind this album is at least as intriguing as the album itself, and can be found in Al Aronowicz's extensive and highly entertaining account. Briefly, in the wake of triumphantly signing Dylan to Asylum, David Geffen allegedly bet Albert Grossman ten thousand dollars that he'd also get an album out of the elusive Neuwirth. Geffen accordingly flew Neuwirth from NY to LA on full expenses and assured him that there was no budget limit for the recording and that he could involve anyone he liked; it's clear reading the cast list that Neuwirth took him at his word. The album would turn out, again allegedly, to be the most expensive in real terms that Geffen ever sanctioned, and the invitees included Gene Clark, Rick Danko, Dylan, Rita Coolidge, Cass Elliott, Don Everly, Richie Furay, Chris Hillman, Booker T Jones, Kristofferson and Dusty Springfield (!), and that's only the best-known ones. A fabulous horn/brass section including jazz greats Plas Johnson, Blue Mitchell and Clifford T Scott was engaged, and Jimmy Haskell arranged comprehensive orchestral strings. Given the location, the times and the contributors, it can be assumed that the proceedings took place in a haze of tequila and coke, and the production certainly has a thick, overproduced party feel, simultaneously sloppy and duck's-arse tight; these guys clearly had some fun in the studio at Geffen's (considerable) expense.
What of the music itself? Neuwirth's original songs are unremarkable but worthy enough, alternating string-swathed Hot-Burrito ballads with horn-and-piano-driven honky-tonkers, both garnished with soaring backing vocals courtesy of the assembled chanteuses. He capably covers Bobby Charles's "Cowboys And Indians" which bumps along nicely on a swampy Fender Rhodes base, and Donnie Frits's maudlin "We Had It All". Neuwirth's vocal talent is clearly limited – a good half-octave, as Richard Thompson used to say – but the instrumental work is first-rate throughout, particularly Ben Keith's flyaway pedal steel on "Kiss Money" and Jeff "Skunk" Baxter's chicken-pickin' guitar on "Rock & Roll Rider", and the hornmen produce tremendous riffing on "Rock'N'Roll Time" and fine New Orleans jazz touches on "Honky Red". The two original side-closers are clearly studio-jam throwaways: a brief cameo of Don Gibson's "Legend In My Time" on which Neuwirth harmonises with Don Everly, and a whacked-out take on his, Janis's and Michael McClure's "Mercedes Benz" on which he thickly intones just the first verse before pronouncing a bleary "thank you and goodnight".
Of course the album tanked commercially; Geffen himself later said that it sold "six copies, as expected" and the myth pertains that it cost him $200,000 to win his $10,000 bet. Bob Neuwirth picked up a belated CD reissue on Water in 2003 but remains one of rock's lesser-known and more engaging curiosities.
mp3: Honky Red
mp3: Cowboys and Indians

Original | 1974 | Asylum | search ]


Reissue | 2003 | Water | buy ]


Spotify link | listen ]