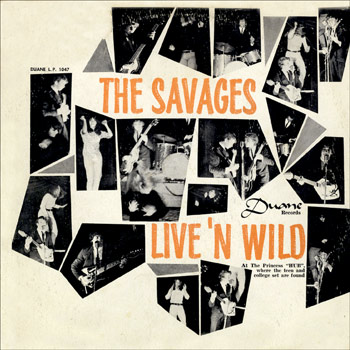 Good rock n roll is supposed to move you emotionally or "blow you away." Great artists like Bob Dylan or the 13th Floor Elevators have always been brutally honest, searched for meaning and never gave in to commercial demands. Many years ago rock n roll was powerful because it never made any promises. Recordings were murky, guitars distorted and trebly and vocalists were love-struck gods. The Savages Live 'N Wild album is one of the great holy grails of rock music.
Very few of these albums were pressed, and as time went on Live 'N Wild only became harder to come by. The Savages created a private press album that possesses clarity, vision and originality. The group cut the album live in Bermuda, 1965. The sound quality and musicianship is excellent, sounding like many studio cut garage albums of the day. The only low point of the album is a competent cover of the Drifters classic, On Broadway.
It's rare for a private press garage album to mainly consist of originals, let alone good originals (9 of the 12 songs). Like the Rising Storm, the Savages effectively mixed slow moody folk-rock-like compositions with garage raunch. The most famous number here is a garage-punk classic, The World Ain't Round, It's Square. It's an aggressive, trebly mess with angry, tormented screams and is by far the heaviest song amongst the batch.
Quiet Town is very introspective and mysterious, sounding like a 1965 lost Zombies single which hints at the darkness within. Kudos has to be given to the Savages for covering the great Icelandic band Thor's Hammer with He's A Man. The Savages version may best the Hammer's for sheer recklessness and soul. Two other numbers, Gone To The Moon and I Believe are naive teenbeat that glow with sincerity and show a band with a lot of heart.
This is really what rock n roll is all about, cutting straight to the heart. These guys must have been garage kings amongst the affluent who resided in Bermuda. In a perfect world they would have been millionares. The proof is within this stunningly great, lost record.
Audio clip: Adobe Flash Player (version 9 or above) is required to play this audio clip. Download the latest version here. You also need to have JavaScript enabled in your browser.
"Quiet Town"
Written by
Jason
| May 29th, 2007 |