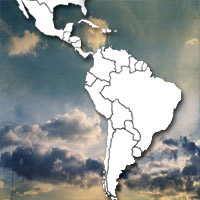 Running Time: 50 Minutes | File Size: 68.8 MB
Download: mp3
To subscribe to this podcast: http://therisingstorm.net/podcast.xml
This is not a definitive Latin American podcast. We left out many great groups/artists like Los Walkers, We All Together, Los Shains, The Spiders, La Vida, Aquaturbia, Telegraph Avenue, Los Yetis, Manal, Vox Dei, Pappo's Blues, Los Yorks, Kaleidoscope (Mexico), Gilberto Gil, Gal Costa, Secos & Molhados, Los Blops, Los Jaivas, Som Imaginario, Lo Borges, Milton Nascimento and about a million more. This was clearly due to space issues. We plan to look at these artists in a future post as many of them released some fine albums in their own right. While Os Mutantes, Caetano Veloso, Gal Costa, and Gilberto Gil released groundbreaking albums later on in the 60s it's important to note that groups like the Shakers, the Mockers and Los Gatos paved the way for them. These three groups started out in the mid 60s, released many fine albums during their existence, and were perhaps South America's most legendary groups. ¡Esperamos que te guste!
Clip from Gilberto Gil – Divine and Marvelous
Laghonia "Bahia"
Glue [1968/69]
Los Speakers "Te Olvidare"
Los Speakers [1968]
Los Dug Dugs "Lost In My World"
Los Dug Dugs [1970/71]
Os Mutantes "Virginia"
Technicolor [recorded in 1970. all tracks are in English]
Los Gatos "Hoy Amaneció"
Volume 2 [1968]
Los Vidrios Quebrados "En Tu Mirada"
Fictions [1967]
Caetano Veloso "London, London"
London, London [1971]
Los Mockers "My Baby"
[1966 single]
Clip from Los Legandarios Shakers
Los Shakers "Hear My Words"
Shakers For You [1966]
Clip from Los Legandarios Shakers
Los Shakers "Don't Ask Me Love"
The Shakers [1965]
Los Saicos "Fugitivo De Alcatraz"
[mid 60s single]
Los Macs "Dear Friend Bob"
Kaleidoscope Men [1967]
Traffic Sound "Meshkalina"
Virgin [1969]
La Revolución De Emiliano Zapata "Al Pie De La Montaña (At The Foot of the Mountain)"
[S/T, 1970]
Almendra "Muchacha (Ojos De Papel)"
[S/T, 1969]