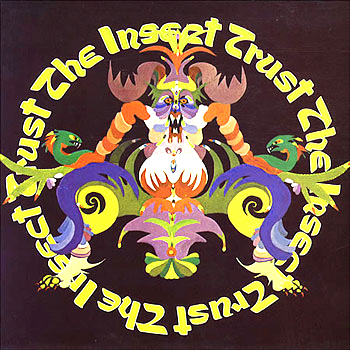 The Insect Trust's only two albums are a great example of what today would be called wyrd America. Back then, such terms did not exist and even still, it's unfair to label this individualistic band.
They were often compared to San Fransisco bands such as the pioneering Jefferson Airplane, although this comparison really doesn't do them justice. Hoboken Saturday Night
(1970), the band's sophomore effort usually gets the nod, or at least the most attention. Though it must be mentioned that most fans forget about this startling, groundbreaking debut.
They were a classic east coast band taking in a multitude of influences from folk, blues, psychedelia, rock n' roll, country, jazz, ragtime and bluegrass. Nancy Jefferies had a strong, clear voice while Bill Barth and Bob Palmer were always experimenting with exotic instruments. Skin Game is typical of their approach, starting off as a country blues shuffle then exploding into a slide guitar freakout that is quite marvelous. Miss Fun City is a trippy slice of Americana with some great hypnotic banjo, a most excellent composition! Be Here And Gone So Soon, has to be the most classic track on this legendary album. It opens up with some classic hippy dialogue, then bursts into a magical folk-rock song.
Anyone searching for a good organic slice of authentic American music along the lines of the Dillard and Clark Expedition, Robbie Basho's Zarthus or Bob Dylan and the Band's Basement Tapes will love this classic from 1968.
Audio clip: Adobe Flash Player (version 9 or above) is required to play this audio clip. Download the latest version here. You also need to have JavaScript enabled in your browser.
"Miss Fun City"

180G Vinyl Reissue: Capitol 2007 | search ebay for Insect Trust ]
reposted from March 21, 2007, check your local shop for the reissue