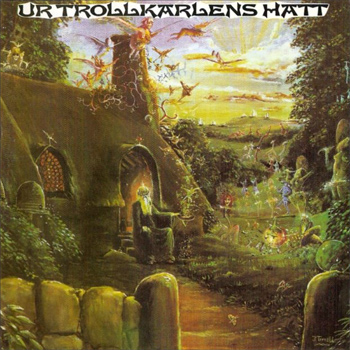 Technically speaking, Bo Hansson's Ur Trollkarlens Hatt (on English editions: Magician's Hat) comes from the same Swedish music scene as the International Harvester record covered a few weeks back. Around the time that Bo Anders Persson was breaking down artistic and political barriers with said troupe of psychedelic renegades, Hansson was serving as one half of the musical duo Hansson and Karlsson, dropping heavy waves into the European music scene and eventually collaborating with Jimi Hendrix (who would go on to record a version of their song "Tax Free," released on his posthumous record War Heroes). The two bands carved very different furrows in the realm of underground Swedish rock, however, and this 1973 solo record of Hansson's definitely works well in highlighting the stunning diversity of the Swedish progg movement.
Where Harvester built its sound on a raw, spontaneous strain of improvised, communal music-making, Hansson was much more methodical in his composition and recording. His first album, the surprisingly well-known Tolkien-driven concept album Sagen Om Ringen, set the stage for most of what was to come later from the pen of this highly talented (and apparently quite reclusive) keyboardist: engaging soundscapes veering back and forth between cosmic space-outs and tight, electric grooves. Hatt takes that formula and throws it through all sorts of subtle little loops, incorporating fragmentary touches of…well, pretty much everything. Progressive keyboard passages melt beautifully into jazz horns, acoustic guitars, spy-theme allusions and blissed-out pedal steel flourishes, creating an eclectic, but somehow complementary, tapestry of music that, while not entirely connecting to the eye-catching album cover, is quite otherworldly.
The album opens with what is possibly its most ambitious statement, the epic, eleven minute suite "Storstad." The piece may not be the highlight of the album, as one might hope by its length, but it is nevertheless a rewarding listen full of memorable moments. It somehow manages to shift back and forth between various complex dynamics without ever dissolving into the sort of pretentious, instrumental indulgences that mar so much similar music of the period. That which might be called the "middle" of the album is composed of a series of short numbers that, while marked as separate tracks, all work together in much the same way as the opening cut's various movements. The guitar and flute interplay of "Fylke" and the acid-drenched "Findhorns Sång" are two highlights here. The second half of the record sees a shift away from the horns and jazz-flavored lines of the first side, and instead places more emphasis on the organ and electric guitar. These are the cuts I find myself returning to most often. Dig the driving rhythm and spiraling guitars of "Vandringslåt," or the electric piano and fatback drums that almost help push "Solen" into krautrock territory. The final number even throws on some wah-wah and a heavy, fuzzed out lead guitar…before taking a disorienting detour into happy-go-lucky parlor jazz.
Both EMI and One Way Ticket Records have reissued Ur Trollkarlens Hatt at one point or another, both with extended versions of "Big City," and the former with the added addition of two bonus tracks. Those wholly turned off by anything bordering on progressive rock may be wary of this album, but it's distinct enough from such fare that you should be able to shake your preconceptions about the genre and take this record in on its own terms.
mp3: Findhorns Sång
mp3: Vandringslåt

CD Reissue | 2004 | EMI | buy here ]


Original Vinyl | 1973 | Silence Records | search ebay ]