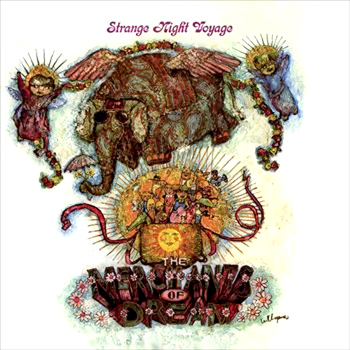 Described in the CD liner notes as "a psychedelic concept album based around JM Barrie's famous tale Peter Pan", but in reality equal parts toytown-psych confection, twisted sunshine-pop song suite and wannabe stage musical, this curiosity from 1969 fails to convince as any one of these whilst exuding a homespun and totally unique charm that works if you don't take it too seriously. Certainly I've found nothing else like it, apart perhaps from Mark Wirtz's unfinished and unreleased Teenage Opera from three years previously which shares its guileless naivité. The blurb goes on to say that Strange Night Voyage "cleverly created a parallel between the original notion of Peter Pan as the boy who wouldn't grow up and the contemporary rebellion against adult morals and mores and straight society that characterised Generation Gap America in the late sixties". Well, maybe. But there's no real attempt here to emulate the subversion of the Fish or the Fugs, the principal thrust of the lyrics being simply the perceived benefits of reverting to/remaining in a childlike state. Of course, for some hippies that also had, like, psychedelic connotations at the time, man . . .
Conceived by fellow St John's graduates songwriter Jack Murphy and record producer Vinny Testa purely as a fun project, the songs were demoed to Testa's friend George "Shadow" Morton, creator of the Shangri-Las' hit catalogue. Morton saw potential in the project and scored a deal with Herb Alpert and Jerry Moss of A&M to record it and release it as an album. A core group of musicians was drafted to lay down the tracks, becoming the Merchants Of Dream, though not in reality a performing outfit. Murphy's songwriting emphasised the vocal harmonies of MOR sunshine-pop and the sophisticated arrangements of show tunes, whilst Morton utilised his proven talents for leftfield orchestration and sound effects. The result came across like the Association on acid meeting the cast of Hair with elements of Sergeant Pepper thrown in for good measure. Whether this mixture proved unpalatable, or maybe the strange cover art was too much, or perhaps due to the lack of an obvious single, the label failed to promote the early '69 release and it sank like a lead balloon until resuscitated for CD by Tune In forty-two years later.
Kicking off with an exhortation to "listen . . . grow young" and a brief soliloquy in an unconvincing Peter Pan voice, the album offers not one but two brief overtures, one per original album side, which recall Pete Townshend's similar use on Tommy as they recap musical themes from the following songs. "The Strange Night Voyage Of Peter Pan" with its rolling power-pop rhythm and pulsating bass is the first of a series of disparate character portraits on the original topside dedicated respectively to Peter, Wendy, Hook and the Crocodile plus "Dorothy The Fairy Queen" and "Lovelife's Purple Circus" (neither of these Barrie characters). "Circus" is a genuinely psychedelic montage item and probably the strongest track on the album, all disorienting tempo changes, disembodied organs, calliopes and circus sounds. On the flip the tracks take more abstract themes – the swirling waltz of "Come Back Into Your Childhood With Me", "Sing Me Life" and the jokey toddler-rebellion of "When You're Pushin' Six". The final "(We Are) Dream Vendors", a fine takeoff of generic 1967 Britsike, closes with a crazy coda as the dream state evaporates and the Pan voice returns to intone "now I lay me down to sleep" and a series of "blesses" for Uncle Jack (Murphy), Uncle Vinny (Testa), Uncle Shadow (Morton), Uncle Herbie (Alpert), Uncle Jerry (Moss) and Uncle Everyone Else who had anything to do with the production and release.
After Strange Night Voyage nothing further was heard of from the Merchants Of Dream apart from Murphy who, perhaps unsurprisingly, moved on to a prolific career in stage musicals, finally coming full circle with his Broadway production Wonderland: A New Alice which debuted in 2011.
mp3: Lovelife's Purple Circus
mp3: (We Are) Dream Vendors

Original | 1969 | A&M | search ebay ]


Reissue | 2011 | Cherry Red | buy ]
Written by
Len
| March 19th, 2012 |