Ronnie Lane's Slim Chance "One For The Road"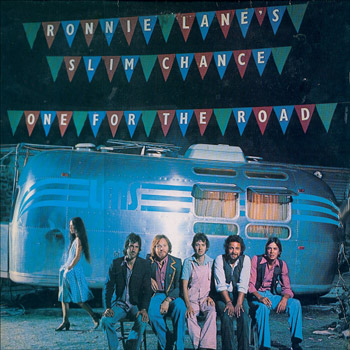 This album snuck up on me, from behind, and knocked my ass on the floor. I forget how important it is to space them out. Put em away for awhile, re-listen two weeks later. Change the situation. Sometimes, you just need to crank it up and let them do their thing.
Ronnie is well-known as one of the founding members of The Small Faces and The Faces. His solo output is consistently good, the Slim Chance recordings a late-night, rousing and old-timey affair, usually combining mandolin, harmonica, acoustic for a solid roots rock sound. One For The Road seems to be the moment where it fell together best. There are memorable tunes set a dynamic paces, some starting off at barely audible levels. Every number is damn near anthemic the way they build. The music is at once traditional and uniquely original. No, this one doesn't kick in right away, but when it does. Something something.
I have two more requests concerning Mr. Lane. I heard the 2006 biopic, The Passing Show
, was really good. Anybody got word on this? Also, the Slim Chance twofer excludes two tracks, Single Saddle from Slim Chance, and Snake from One for The Road. I'd be glad if somebody could pass them my way so I can replace the tracks here.
Audio clip: Adobe Flash Player (version 9 or above) is required to play this audio clip. Download the latest version here. You also need to have JavaScript enabled in your browser.
"32nd Street"

CD Reissue | 2003 | Acadia | 2fer | buy from amazon
]


Original Vinyl | 1975 | search ebay ]
Also Recommended