Roy Wood "Boulders"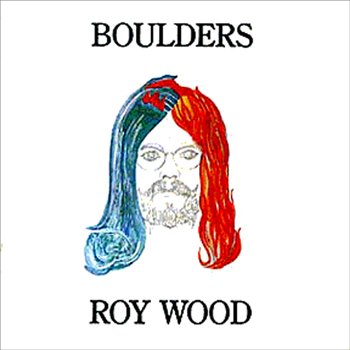 Roy Wood is one of the architects of ELO and The Move, and possessed some of the most eclectic tastes and interesting ideas of any pop artist in his time. Boulders, his self-produced 1969 (though released 1973) solo-outing combines the hard rock of The Move with Roy Wood's classical tastes, satisfying pop composition skills, and studio wizzardry.
A fantastic listen from start to finish. "Songs of Praise" might throw off casual ears with layers of harmonized vocals, but throughout the record the dubbed vocals are played almost as masterfully, though more humorously to be sure, as our old friend Nilsson. There's the brilliantly produced "Wake Up," with double-tracked acoustic guitars in stereo, flutes, cello, best of all: percussion from a puddle of water! Elsewhere we hear sped up and slowed down vocals, plentiful horns and woodwinds. Delicate sleigh bells and shakers, tiny mistakes, xylophone accents; there are a million precious details. It sounds as if Wood had picked out toys and instruments from the studio like it were a candy store. Additionally, it gives the feel of a fellow finally getting the control over the studio he's always needed, and just having a blast with it. It is comforting in a strange way to know the record was designed entirely by Roy, making each ornament of sound stand out a bit more.
Despite Roy's legacy of music in other projects The Move, ELO and Wizzard, I consider Boulders to be his finest work. Roy writes to us on the sleeve of the recent reissue and asks that we not distribute this album illegally online. Boulders is a brilliant listen and is truly worth your money.
Audio clip: Adobe Flash Player (version 9 or above) is required to play this audio clip. Download the latest version here. You also need to have JavaScript enabled in your browser.
"Wake Up"
[ Buy from Amazon
| search eBay ]
Also Recommended