Scott Walker "Scott 4"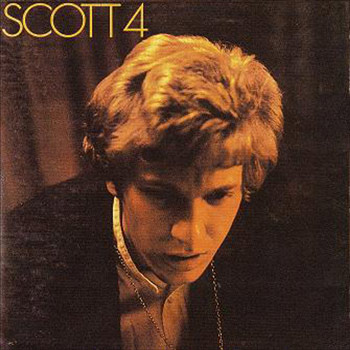 Scott Walker sure has an interesting career going. Starting as a teen pop idol in the early sixties, moving to session work on electric bass with Jack Nitzsche, Scott later formed the fabulous Walker Brothers (neither of which were Walkers, or brothers for that matter), broke away to a solo career that is the focus of this review, and in recent years has been recording acclaimed experimental music, his The Drift making Pitchfok Media's top 10 albums of 2006.
Scott Walker's albums from 1967 to 1969, Scott, Scott 2, Scott 3, and Scott 4 are all great and consistently satisfying records. Walker is kind of a psychedelic crooner, a deep tenored and dramatic singer backed with a full orchestra and groovy rock combo. His tunes almost sound kitschy, but should you choose to pay attention, you'll find the words and images that no ordinary voice-man would dream to play with. It's clear why David Bowie was so inspired by Scott; reading along with the lyric sheet is a mind wrenching exercise.
But I have to recommend treating this album as a series of poems. It's obvious that the lyrics came before, and are tantamount to, the melodies and accompaniment. But that's not to say that you won't be singing along to Get Behind Me or any other great melodies on this record. On all of Scott's earlier solo albums, Jacques Brel is a prominent songwriter, but on 4, Scott takes complete control.
There's a new box set out but I think it would be cooler if you bought each separately and chronologically. Let us know when you get to 4.
Audio clip: Adobe Flash Player (version 9 or above) is required to play this audio clip. Download the latest version here. You also need to have JavaScript enabled in your browser.
"The Old Man's Back Again (Dedicated To The Neo Stalinist Regime)"
[ Search Amazon
]
Also Recommended