Simply Saucer "Cyborgs Revisited"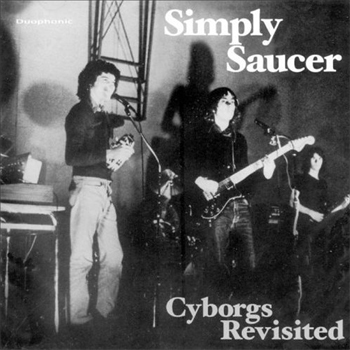 Quite simply, this is one of the best proto-punk albums out there. Cyborgs Revisted is equal parts Syd Barrett era Pink Floyd garage psych raunch and early Velvet Underground art-rock sophistication, sounding well ahead of the game and almost too good to be true. It's a fabulous record that few people have heard, and will appeal to adventurous listeners who are tired of today's top 40 garbage.
Simply Saucer formed in Hamilton, Canada (Ontario), releasing just one single in 1978 and playing live shows throughout the region. I don't think Cyborg's Revisited was officially released during the mid 70's. I do know that in 1989 an lp version appeared featuring 9 songs. In 2001/2002 a cd version of Cyborg's revisited was reissued, containing the full album as well as live cuts, their lone single and raw demos. Most of the cuts featured on the 1989 lp (which are the first 9 tracks of the cd) were recorded in 1974. Edgar Breau was the brains behind Simply Saucer writing all the band's material, singing lead vocals and playing guitar.
Many of these songs are highly experimental within a garage rock format using theremin, audio generators, and other primitive electronics. Electro Rock showcases this experimental aspect of the band with great results and also highlights some exceptional guitar work. Instant Pleasure is a great, brief track as well, with Syd Barrett type vocals and guitar noise mayhem. On Bullet Proof Nothing the band pulls off a great acoustic rocker that sounds like a Lou Reed Loaded era outtake. I can't see anyone into early Pink Floyd, the Stooges, the Velvet Underground or Can not liking this record.
Simply Saucer has also proven to be influential to popular artists such as the Dream Syndicate's Steve Wynn who quotes the She's A Dog 45 as one of his all-time favorites. Other bands of this ilk worth checking out are Debris', George Brigman, the Electric Eels, the Mirrors, Styrenes, and Rocket From The Tombs.
Audio clip: Adobe Flash Player (version 9 or above) is required to play this audio clip. Download the latest version here. You also need to have JavaScript enabled in your browser.
"Instant Pleasure"
[ Cyborgs Revisited
| Search eBay ]
Also Recommended