Spirit "The Family That Plays Together"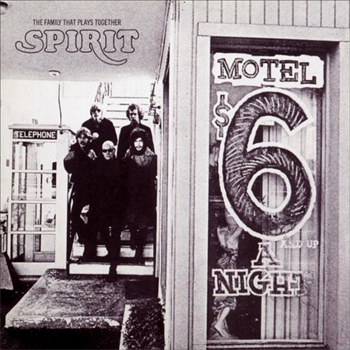 Many of you are probably familiar with this great, underrated LA band that was started by drummer Ed Cassidy and guitarist Randy California in 1967. The roots of Spirit can be traced to prior groups the Rising Sons (who released one excellent blues rock single in the mid 60's) and the Red Roosters. While Cassidy and California were the heart and soul of Spirit, Jay Ferguson handled lead vocals while Mark Andes and John Locke played bass and keyboards respectively.
Spirit crafted many fine albums in their day but most people cite this album along with Twelve Dreams of Dr. Sardonicus
and Spirit of '76
(double lp) as their masterpieces. The Family That Plays Together hit the record shelves in 1968 and featured a wild, young guitarist in Randy California. Cassidy was an excellent middle aged drummer and Ferguson was an outspoken, courageous lead singer. Spirit definitely stood out amongst a crowd and the different personalities within the group eventually tore them apart.
The above record featured Spirit at an early peak, opening with their biggest radio hit I Got A Line On You. This was the most atypical song on the album but great guitar driven hard rock anyhow. California's leads were fantastic and innovative and there is no doubt that he was one of LA's top rock guitarists. Some of the songs such as the spacey It Shall Be or the heart wrenching Darlin' If have beautiful string and horn charts that bring to mind Love's classic Forever Changes album. The Grateful Dead-like It's All The Same and the strange psych blowout Aren't You Glad showed California's mastery of the fuzztone.
He was clearly breaking new ground with tone and texture but for me the true masterpiece on this album is Dream Within A Dream. This song opens with some intense Hendrix influenced riffs which eventually drift into space, riding high on insane, droning bumble bee fuzz riffs that hit really hard. It's one of the great slices of LA guitar psych and mandatory listening for any casual rock fan. For those who have not given this legendary band a chance, it is worth your while to do so.
Audio clip: Adobe Flash Player (version 9 or above) is required to play this audio clip. Download the latest version here. You also need to have JavaScript enabled in your browser.
"Dream Within A Dream"
Below is the great My Friend track from the Original Potato Land album. Potato Land was a weird science fiction rock opera/concept album recorded around 1971/1972. Some of the songs were later rerecorded (probably during the early 80's) and released in 1981. At this stage in the game Spirit were basically cut down to the duo of Cassidy and California and would remain so for many years after. In early 2006 the original Potato Land album was released off the Acadia label. This cd reissue off Acadia is the album to get and not the 1981 vinyl version, as it presents the album in its original form (it's full of great songs) and also contains more tracks. My Friend is one of the highlights off this great lost record, a fine slice of power pop.
Audio clip: Adobe Flash Player (version 9 or above) is required to play this audio clip. Download the latest version here. You also need to have JavaScript enabled in your browser.
"My Friend"
[ Buy from Amazon
| Search eBay ]
Also Recommended