Spring (self-titled)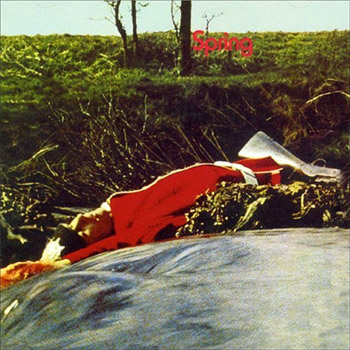 In 1971 the Leicestershire UK-based band Spring recorded its first album at Rockfield Recording Studios with Elton John cohort Gus Dudgeon producing. The music was recorded live to tape, with just some acoustic guitar overdubbed later. This is music awash in seas of rolling Mellotron tones — at times you'll think you're drowning in melancholy marzipan. At times all three Mellotrons are in use, each with a different tone, and it makes for quite a rich and ornate musical tapestry. Just close your eyes while you listen to "Grail" and you'll know what I'm talking about.
No doubt the blues was a very popular choice for young bands in the UK in 1971, and Spring's music reflects that. In fact, Spring toured the UK opening for The Velvet Underground before they recorded this album. But Spring weren't doing the out-there jazz jamming of The Soft Machine or the LSD-fueled space trips of Hawkwind, or even the whiskey-soaked blues of Led Zeppelin. It's hard to know which scene Spring grew out of, but considering that London's airwaves were full of acid pop in the late 60s — I can hear the sounds, humor, and instrumentation of such bands as Turquoise, 23rd Turnoff, and Timebox in Spring's music — it's fair to assume Spring's sound was influenced by quite a few styles and bands.
But Spring's music isn't all just Mellotron, and all of the playing is exceptional. "Fool's Gold" features some excellent guitar playing and not much Mellotron, and breaks into a particularly fiesty jam. Drummer Pick Withers's articulate use of cymbals and fleet fingers is always in the pocket and pure icing. Vocalist Pat Moran's voice recalls John Wetton's baritone with a touch of vibrato. The instruments were recorded with no phasing, flanging, or effects, so the recording does not sound dated in any way. But for all the tricky tempos, busy playing, and mountains of Mellotron, this is glorious, effortless music. I feel refreshed after listening to it, not tired or worn out as I would after a King Crimson album.
The album has been given one vinyl reissue by Akarma Records in Italy (which is good, because according to popsike.com original copies are fetching up to $800US). The Akarma and Repertoire CD reissues are pricey, but relatively easy to find and the sound is good.
Audio clip: Adobe Flash Player (version 9 or above) is required to play this audio clip. Download the latest version here. You also need to have JavaScript enabled in your browser.
"Fool's Gold"

CD Reissue | 2004 | Akarma | buy from akarma | buy from amazon
]


Vinyl Reissue | 2004 | Akarma | search google ]


MP3 Album | download at amzn
]
Also Recommended