Suzanne Ciani "Lixiviation"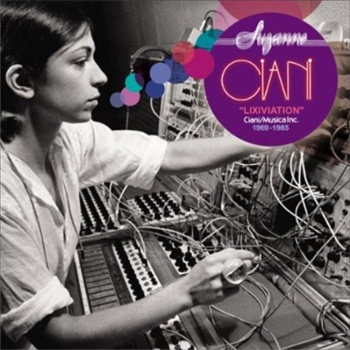 Suzanne Ciani is probably best known today for her grammy nominated new-age records. That legion of fans may not be prepared for her latest comp from B-Music/Finders Keepers which explores her earlier, pioneering work composing synthesized soundscapes and logos. It's this part of Ciani's career I find most interesting and Lixiviation 1968-1985 curates a fine selection of tracks that will appeal to fans of early electronic experiments and electronic music in general.
Not a typical record, but rather a selection of cleverly sequenced tracks combining short audio logos with lengthy soundscapes for an album-like listening experience. Sprinkled with brilliant sonic logos like the famous "Coca Cola Pop & Pour" and "Atari Corporate Tag," 30-60 second spots for adventurous sponsors like "Clean Room ITT TV" and "Almay Eclipse," and four or five non-commercial pieces teetering between psychedelia and ambient music. The title track swerves from introductory blips and effects to a beautifully filtered odd meter sequence. "Paris 1971" explores droning pads and softly shifting wind sounds a full six minutes without becoming a bore. The buzzy "Princess With Orange Feet" finds her improvising with tape delay and using full range of the Buchla's unique touch plate keyboard. It's Ciani's ability to guide listeners so delicately through each track, maintaining interest with the simplest changes in timbre and never rushing, that seems to define the masterful touch in these tracks.
Her commercial works really take off in the mid 70s as evidenced by "Discovery Magazine TV Spot," which sounds especially indicative of electronic music's future, a fresh sound made with tight delays and sharp sawtooth chords. "Inside Story PBS TV Spot" layers tape edited sound clips over some fancy sequence work; I wish I could hear 4-minute versions of these tracks especially. The spots are indeed short, but merely deserve some repeated listens.
Ciani's career in synthesized music began after meeting Don Buchla and one of his fantastic modular machines. In the synth world, there is no machine I can think of more imaginative in design, complex in architecture, or more grandly exploratory in sound than any of Buchla's rare machines. In her interview with the LA times, Ciani recalls her first encounter with its sound:
"Your ears woke up. The frequency spectrum was so much bigger. It had the high end and the very low end, and you could go to the very top and the very bottom. After hearing that, acoustic music seemed to occur along a very narrow path. It wasn't alive."
After listening to the full nine minutes of the droning, rich-frequency laden "Second Breath" I was surprised how much waking up my own ears have left to do. Suzanne has since become one of Buchla's most famous users, as well as helping to make legendary tools such as the Sequential Circuits Prophet 5, Roland's MC-8 sequencer, as well as various voice synth/vocoder technology. While the album runs slightly short, it stands as the best introduction to Ciani's illustrious, one-of-a-kind career. It's even available on vinyl with detailed liners. If you like what you hear, make your next find the new-age classic Seven Waves.
mp3: Princess with Orange Feet
mp3: Discover Magazine (TV Spot)

CD Comp | 2012 | B-Music | buy from Finders Keepers | amazon ]


Vinyl Comp | 2012 B-Music | buy from Finders Keepers ]


Spotify link | listen ]
Also Recommended