Sweet Shops *The Best Record Stores*: Amoeba Music
Many folks are downloading their music these days, but even the strictest digital librarians will drop a little dough on a multi-album binge at their favorite record shop. In the Sweet Shops series, we are going to feature some of the best record stores we have found that are still kicking today, and that we hope will survive well into this cold and digital future.
These retailers carry music classic and contemporary, new and used, vinyl and CD; and of course, you've got to have a shot at finding a gem! We start with the big mama:
Amoeba Music
Los Angeles, California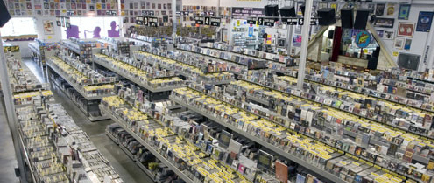 It's the Mecca of record stores. Based in Los Angeles, (with other smaller stores in San Fransisco and Berkeley) Amoeba Music is a well-oiled machine of record buying. You find yourself making a weekly trip, trying to limit your selections to just one handful, hilariously justifying that box set tucked under your arm. This picture makes it look large but it's actually much bigger, including a football field sized room for jazz, an upstairs area with DVDs and listening stations, and dedicated sections for each genre that are often the size of your typical CD shop. The classic concert posters and memorabilia tacked all over the walls make it a sight to see and a must-visit for Hollywood tourists.
What I would try to do when I lived in LA was scan the New section for something I'd want, then check the Used section to see if it was there for cheaper. Most Used sections can be tedious, but Amoeba's constant flow of record trading keeps the shelves pretty fresh.
Amoeba Music recently introduced themselves as a record label, releasing a fine choice in The Flying Burrito Brothers Live at the Avalon, a live set with Gram Parsons. Perhaps Amoeba can set a model for record shops to follow if they are successful in this venture.
When I'm in town, you'll find me in the pink section.
Amoeba Music
6400 Sunset Boulevard
Hollywood, California
323.245.6400
http://www.amoeba.com/
Next time we'll take it home to NYC with two sweet under-the-radar shops.
Also Recommended