Sweet Shops *The Best Record Stores* Ear X-tacy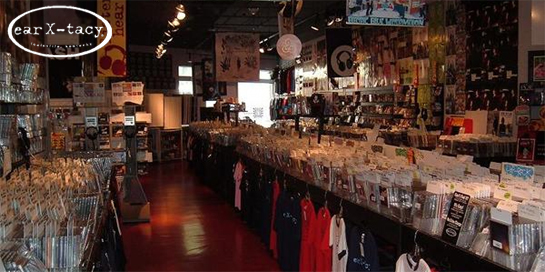 Every time I'm in town I can't leave without a trip to this shop. If you're visiting Louisville for the first time, skip Fourth Street Live and head straight to where the real action is. Nestled amongst gorgeous residential neighborhoods and Olmstead's Cherokee Park is Bardstown Road, the go-to thoroughfare for night life and home to one of my favorite record dealers, Ear Extacy.
The shop is great for one of the best reasons, it turns you on to new stuff. I bought my first T-Rex album here because they had a special promotion on 'classic albums' (including others I had known already like Forever Changes and This Years Model). A store you can trust, where the sales folk might even compliment your picks, is a hard find. Basically all you could want is stuffed up in their shelves: vinyl reissues, a pop/rock section with quality selections from modern and vintage standpoints, fresh used bins right up front, and a real deal dedicated bluegrass shelf that always gets my fingers flipping.
As I said, this is one of my favorite shops for the very reason that you know you're going to come out of there with something great that you could have never predicted. Don't miss it. Any Louisville readers out there? Go Cards; final four next year.
Ear X-tacy
1534 Bardstown Road
Louisville, KY 40205
502.452.1799
Also Recommended