T-Rex "Electric Warrior"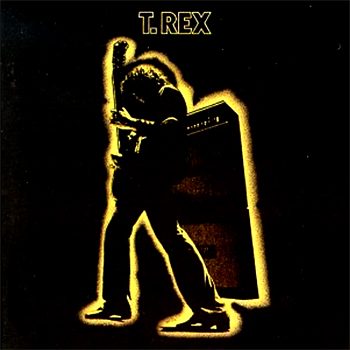 I grew up thinking T-Rex was mad lame. See, you hear this "Bang A Gong, Get it ON!" song on classic rock radio all the time, and somehow everybody knows it's T-Rex. But that's it… pretty lame, man. Pick up the nice digipak release of Electric Warrior, however, and you'll experience your first bout of T-Rextacy.
I'm just writing this one up in case. Everybody in the UK is sick of this album, but I didn't know about it until a few years ago. It simply can't be missed. From the moment Mambo Sun sets the kicked back groove, Electric Warrior is an album with immediate resonance. It carries on to the beautiful Cosmic Dancer (watch the great film Billy Elliot for a healthy dose of Rextacy) before taking off with the rocking Jeepster. The album continues this way dynamically, but every song is so simple, every melody so smart, every lyric so strange, and every sound so classic.
It's no wonder Marc Bolan was in love with himself. Check out the Born to Boogie DVD to see him perform next to a giant cutout of himself while wearing his face on his tee shirt. Electric Warrior is the album when Bolan took the folkier, mystic Tyrannosaurus Rex to the next level. Basically, he wanted to rock. So he brought out the electrics and the drum kit, but kept the bongos and added some strings. Just go get Electric Warrior, then The Slider. Then, if you're up for it, old buddy Sergio will tell you about TANX.
Audio clip: Adobe Flash Player (version 9 or above) is required to play this audio clip. Download the latest version here. You also need to have JavaScript enabled in your browser.
"Life's A Gas"
[ Buy from Amazon
| Search eBay ]
Also Recommended