T. Rex "Tanx"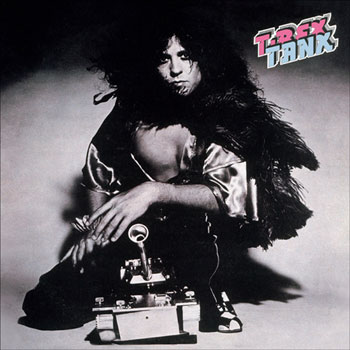 If you love "Electric Warrior" and "Slider" then you'll like like "Tanx" a lot!! For me, Marc Bolan has one of the greatest rock voices of the time. I don't know what he was putting in his tea between 1971-1973, peppermint jasmine awesome, perhaps?
"Tanx" picks up right where "Slider" left off and even broadens the band's sound adding horns and back up singers throughout the record. This album also serves as a perfect self confidence booster when you get ready to go out on a Friday Night, but don't get too sexy!
In a way "Tanx" is a farewell album, mostly because the band would soon start to dismember, and Bolan would go on to make on a few more records that no one would listen to. Please do not let the ridiculousness of the album cover fool you, it's a great listen; Bolan looks like a member of "Gwar" on the cover, no?
Audio clip: Adobe Flash Player (version 9 or above) is required to play this audio clip. Download the latest version here. You also need to have JavaScript enabled in your browser.
"Mister, Mister"
I too, was Born to Boogie
Also Recommended