Terry Reid (self-titled)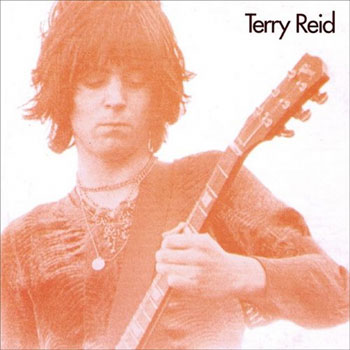 It's amazing how such a perfect stroke of rock n-roll can hide in the shadows. Terry Reid's albums are an instantly likable mix of blues, rock, and blue-eyed soul. Excellent juke box fodder, you could drop a quarter on a random song from his catalog and feel confident in any bar around. Maybe classic rock radio would give the boy a spin if he hadn't turned down that lead-singer gig for Led Zeppelin.
I guess it's lucky for us that Terry recommended Robert Plant for the job (he was busy opening for the Stones). Needless to say, the kid can belt. One of the great unsung voices of rock, in fact. The leadoff track on this record is an aptly titled Donovan cover, Superlungs My Supergirl. Most of the rest are fine originals, shining on the toned down folk numbers, May Fly case in point.
Another case of classic management problems, Terry would remain under the radar, unhelped by Mickie Most's contractual obligations. Reid's music gathered some renewed interest thanks to Rob Zombie, particularly via his ultra-horrifying film, The Devil's Rejects, soundtracked with a bunch of classic Terry Reid joints. I can firmly agree you won't be disappointed with any Terry Reid purchase ventured, even the confusing mix of his early albums on Astralwerks, Superlungs.
Audio clip: Adobe Flash Player (version 9 or above) is required to play this audio clip. Download the latest version here. You also need to have JavaScript enabled in your browser.
"Superlungs My Supergirl"
I'm posting Terry's 2nd, self-titled album above for its lovely 1969 grit, but his other albums, notably River and Seed of Memory, are every bit as essential. They take a more manicured 1970s approach, adding bass groovers and horns, with Seed of Memory approaching superfunk on side two, but damn if they won't get ya. Here's two from a personal favorite, River:
Audio clip: Adobe Flash Player (version 9 or above) is required to play this audio clip. Download the latest version here. You also need to have JavaScript enabled in your browser.
"Dean"

CD Reissue / Download | 2005 | Astralwerks | buy from amazon
]


Original Vinyl | 1969 | Epic | search ebay ]
Also Recommended