The Band "Rock of Ages"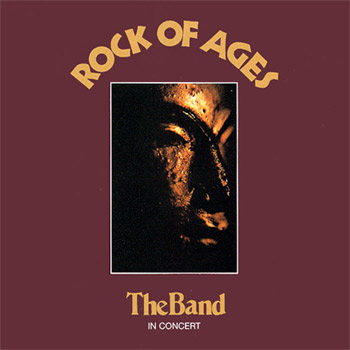 I usually stay away from live albums. Rock of Ages was my last chip at The Band's discography, but what a thrill to hear the band at their peak, a true live-rock classic.
Before this record, I've always felt "Across The Great Divide" plays kind of hokey at the helm of one of the top records of all time, but here it nearly brings me to tears, revealing the power of a good song. A considerable chunk of this recording's force comes from Allen Touissaint's horn arrangments, adding a level of raw, visceral energy, one that fails to detract from the original tunes (unlike so many last-minute horn-section supplements).
Subtle road-variations kill me: the super-slowed chorus to "Stage Fright" (it should have been like this from the beginning), the embellished arrangment for the "Rag Mama Rag" tag (Touissaint again), not to mention the killer Lowrey Organ solo from Garth Hudson, "The Genetic Method," introducing blazing hot "Chest Fever," and Robby Robertson's emotic guitar solo for "Unfaithful Servant."
I'm glad I saved it for last. Guaranteed to put everybody in a good mood. Though The Band still had more great material in the wings, specifically Northern Lights – Southern Cross, I say make this your Last Waltz.
Q. Are there any other essential live records?
Audio clip: Adobe Flash Player (version 9 or above) is required to play this audio clip. Download the latest version here. You also need to have JavaScript enabled in your browser.
"Across The Great Divide"

CD Reissue | 2001 | Capitol | buy amazon ]


Original Vinyl | 1972 | Capitol | search ebay ]


MP3 Album | download ]


Spotify link | listen ]
Also Recommended