The Beach Boys "Smiley Smile"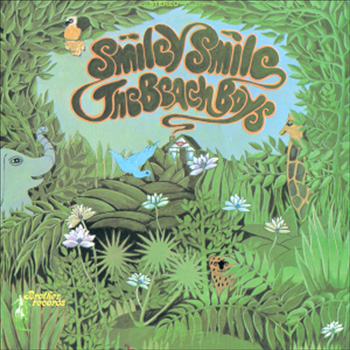 I remember, the first day I bought this album, I couldn't listen to it right away, I was at a party for something. But I clutched it and stared at it all night, because I knew I had something special in my hands.
And I did. Smiley Smile usually gets the cold shoulder because it wasn't Smile, Brian's "teenage symphony to God" that never materialized (oh, but it did a year or so ago
). However, if you would like to care more about what Smiley Smile is rather than what it is not, I think you are going to find yourself a great introduction to that side of The Beach Boys you may not have yet heard but were always wondering about.
Opening with the fantastic and complex Heroes and Villains, with uncharacteristic (for the Boys at least) lyrics penned by Van Dyke Parks, Smiley Smile is a real trip. This album follows Pet Sounds in the discography, so we have the creative remnants showing in arrangements and orchestration, but this time much toned down. Smiley Smile is a scarce and subtly produced record employing sound effects, laughter + dialogue, great percussion sounds, very basic instrumentation, and all throughout those marvelous Beach Boy voices shine as the lead instruments.
Of all the Boys records, this is by far the most psychedelic. Carl Wilson reported that a clinic in Fort Worth played it for their patients, their sole method in helping them out of bad LSD trips (see here, actually all the quotes make a great read). Some parts are a little over the top, as in She's Goin' Bald, but usually contain a great payoff. Plus, you'll get the monstrous #1 hit Good Vibrations, and in the bonus tracks a revealing look at all the hard work that went into its development in three separate takes of the powerhouse track. Also in the bonus: the amazing Can't Wait Too Long – this long study has a great feel and builds towards 25 seconds of one of my favorite Beach Boys instrumental moments.
Plus, with Capitol making available the entire Boys catalog in two-fer packages, you can't pass this one up. Smiley Smile is packaged with Wild Honey, a Beach Boys-gone-soul record that I would love to talk more about. For under $10 it's a no-brainer. Grab this record, and if you haven't already, let this summer be your Beach Boys summer, you'll never forget it!
Audio clip: Adobe Flash Player (version 9 or above) is required to play this audio clip. Download the latest version here. You also need to have JavaScript enabled in your browser.
"Fall Breaks And Back To Winter"
Remastered / Extra Tracks/plus Wild Honey!
Also Recommended