The Blue Things (self-titled)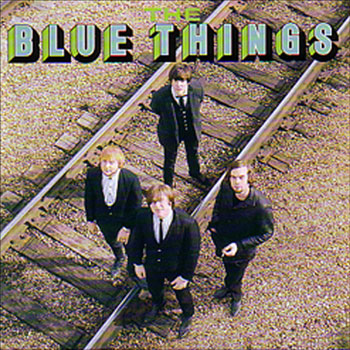 The Blue Things were a great band from the Midwest. They had a Beau Brummels Volume 2/From The Vaults sound crossed with some Gene Clark era Byrds. While they were extremely popular in the Midwest, the Blue Things never reached fame at a national level despite a great folk-rock album and some groundbreaking early psychedelic singles.
The band started out releasing singles on independent (private) labels around 1964/65 with a strong Searchers/early Beatles flavor. Some of these singles such as Pretty Things-Oh! were very strong and deserved more attention. Eventually they evolved into a tight folk-rock band that strongly recalled Help/Rubber Soul era Beatles.
Val Stocklein wrote most of the compositions and his vocals are a world weary mixture of Gene Clark and Help era John Lennon. They released their only self-titled album (commonly referred to as Listen & See) in 1966 and by this time, the band had already been experimenting with a psychedelic sound. The album is one of folk-rock's highlights. A singled released from the album, Doll House/Man On The Street was spectacular. Both songs dealt with subjects uncommon for rock in that era (or any era), prostitution and social injustice.They are both characterized by glittering guitars, thoughtful lyrics, great harmonies, tambourine and a driving beat. There is no doubt that this was one of the defining moments of the folk-rock revolution. Other album tracks highlighted the group's influences. Honor The Hearse was very Dylan-like but still effective while High Life, I Must Be Doing Something Wrong, It Ain't No Big Thing Babe and Now's The Time were also really strong, classy folk-rockers.
There were a few raw covers of old rock standards as well, that recalled their club and bar days. Ain't That Lovin' You Babe is particularly noteworthy for a blistering guitar solo. Desert Wind, an outtake from this era, is another great melancholy folk-rock winner. The Blue Things would eventually release two classic psychedelic singles before Val Stocklein left, effectively putting an end to the original group. Orange Rooftops Of Your Mind was their creative zenith, an explosion of sound, featuring violin-like fuzz guitar tones, echoed vocals, a great folk-rock bridge and an organ rave up. The B-side, One Hour Cleaners, was almost as good, with some strange lyrics and a good beat. This single was released in 1966 just when psychedelia was beginning and may have been the first genuine Midwest acid-rock single. You Can Live In Our Tree, another good A-side paired with a great psych version of Twist and Shout was more of the same.
The inability to sell records or become commercially viable frustrated the group and left them bitter. One more single was released in 1967 after Val's departure and without his involvement. Yes My Friend paired with Somebody Help Me did not recall the band's heyday in any way and was actually pretty weak. The Blue Things soldiered on for a while playing live but eventually decided to call it a day before the end of the decade.
Audio clip: Adobe Flash Player (version 9 or above) is required to play this audio clip. Download the latest version here. You also need to have JavaScript enabled in your browser.
"Doll House"

2CD Reissue | 2008 | Cicadelic | Buy @ Cicadelic Records ]
reposted from March, 2007. Check out the brand new 65-song reissue.
Also Recommended