The Bonzo Dog Band "Cornology"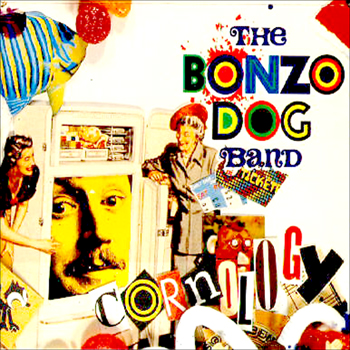 If you are a fan of British humor, Monty Python, John Cleese & Fawlty Towers and all that stuff, than I highly highly highly highly highly highly highly highly HIGHLY highly highly highly highly recommend recommend. I'll repeat that, highly recommend that you check out THE BONZO DOG BAND.
It's the subtlety, I think, that makes these bits of dialogue, silly orchestrations, and bizarre lyrics and song topics so growingly hilarious. It's better with each listen, and I can't recommend recommend enough that you try this one out on a road trip (where more than one person is actually listening intently to an album, for once). For, although the Bonzo music is incredibly rockingly satisfying, to fully appreciate the experience their discography requires your complete, complying, curfew-denying, centered and well-mentored concentric concentration.
Ok, well that's enough of that. My attempt at wit just doesn't find par with these vaudevillian joke meisters. But my point is, we don't just have humor here. The Monty Python albums, uproarious as they are, don't suit casual, real-life listening. The Bonzo albums on the other hand, hilarious as they can indeed be, will fail to spoil the delicate hipness of your careful being. Though the mp3 below is a classic, it was hard to choose one, as these tunes vary between brilliantly witty, insanely catchy, and psychedelically rocking.
If you have read this far, then I recommend you just dive in deep and purchase the 3-CD boxset, Cornology. You'll get everything you need from the band who so luckily pulled off a guest spot in The Beatles' Magical Mystery Tour movie performing a song that modern wonder group Death Cab For Cutie payed tribute to, borrowing its title for their bandname.
Audio clip: Adobe Flash Player (version 9 or above) is required to play this audio clip. Download the latest version here. You also need to have JavaScript enabled in your browser.
"My Pink Half Of The Drainpipe"
Also Recommended