The Buckinghams "Kind of a Drag"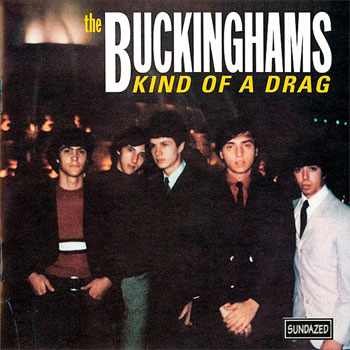 The Buckinghams first disc is unlike anything they would ever record again. Sure, the title track was a bubblegum smash but the rest of the LP is given over to garage, blue-eyed soul, blues, and British Invasion influenced pop. It's all good too, sung beautifully and played very tightly. You'll be surprised when you put this gem on the turntable, if only for the two masterful garage punkers from the group's USA tenure, "Don't Want To Cry" and "I've Been Wrong." These two tracks alone make Kind of a Drag worth a purchase.
"Sweets For My Sweet" is also given a nice garage pop reading with it's raw guitar work and smooth organ sounds. Reissues include a powerful version of "I'm A Man", a track that was featured on early USA pressings of this LP. Other standouts: the garage pop of "Makin' Up & Breakin' Up," a superb blue-eyed soul song titled "Love Ain't Enough" and "Beginners' Love," great Beatles inspired rock n roll. Even the album's one instrumental, "Virginia Wolf," is skillfully performed, in fact the whole album is very engaging, lacking any weak spots or noticeable mistakes. There's lots of energy, thought and professionalism put into this music – these guys must have been one hell of a club band back in the day.
Kind of a Drag sold pretty well, so vinyl copies are very easy to find. Also recommended is the Sundazed CD reissue that was put out some years back. The youthful energy in the playing and the Buckingham's willingness to tackle different musical genres is what makes this disc so exciting – a must if you're into garage pop. The Yardbirds, the Kinks, and the Who were strong influences on the early Buckinghams as they had yet to fall into the bubblegum hit-making trap that was soon to come.
Audio clip: Adobe Flash Player (version 9 or above) is required to play this audio clip. Download the latest version here. You also need to have JavaScript enabled in your browser.
"Love Ain't Enough"

Original Vinyl | 1967 | USA | search ebay ]


CD Reissue | Sundazed | buy at sundazed ]
Also Recommended