The Byrds "Ballad Of Easy Rider"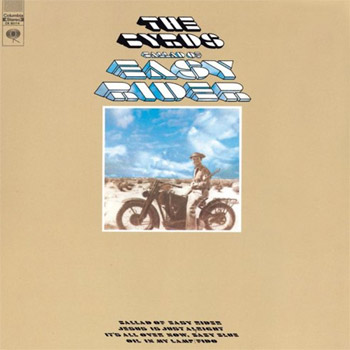 Ballad of Easy Rider was one of two great Byrds' albums to be released after the groups' acknowledged heyday (Mr. Tambourine Man to Sweetheart of the Rodeo).  Released in 1969, before the excellent double set Untitled, Ballad of Easy Rider was a quiet, tranquil record with good songs and fine, professional performances.  By this time Clarence White was a full-time member and the group was looking to rebound from their prior release, the uneven Dr. Byrds and Mr. Hyde.
Ballad of Easy Rider kicked off with the title track, two minutes of beautiful countrified folk-rock that was notable for its stately orchestration.  This was definitely one of the latter group's finest performances and legend has it that Dylan wrote half the lyrics down on a napkin (McGuinn naturally finished up the song).  Perhaps the album's most popular track was the gospel influenced "Jesus Is Just Alright," a fine pop number in it's own right that reached the lower regions of the charts.  There were great covers of "Tulsa Country" (country-rock with excellent guitar work from Clarence White), "There Must Be Someone I Can Turn To" (a classic Gosdin Brothers' track), "Jack Tarr The Sailor" (a sea shanty folk-rocker with stinging electric guitar and banjo) and Woody Guthrie's "Deportee."    The story behind "There Must Be Someone I Can Turn To" is rather interesting. One night Vern Gosdin came home after playing a gig to find his house completely empty.  His wife and kids were gone along with the furniture and there was a goodbye note from his wife.  With this in mind, Vern sat down and wrote "There Must Be Someone I Can Turn To."  The Byrds decided to include this number into their set because of its meaning and emotional power.
The originals on Ballad of Easy Rider are also impressive.  "Fido," written by John York is a funky number about a stray dog.  There's a brief drum solo and some strong guitar riffs, it's unlike anything the Byrds would ever record.  "Oil In My Lamp" showcases a Clarence White vocal and is an excellent country rocker with a very laid back, rustic feel (with more great guitar riffs).  The best of the bunch is "Gunga Din," a minor Byrds' classic with Gene Parsons taking lead vocals and really great finger picking via Clarence White.  It almost seems as if Roger McGuinn relinquished his leadership role in the Byrds to let Clarence White take the spotlight on Ballad of Easy Rider. 
I think it's wrong to assume the Byrds were dead after Sweetheart of the Rodeo.   Many fans suggest this version of the Byrds was less innovative and lacked a strong songwriter.  While the Byrds did write fine original material they were also known as great interpreters of folk and country material.  I must point out that these latter day Byrds were known to be a great live band (probably the best in the group's history), featured one of the era's finest guitarists in Clarence White, and released two classic country-rock records.  This is one of them.
Audio clip: Adobe Flash Player (version 9 or above) is required to play this audio clip. Download the latest version here. You also need to have JavaScript enabled in your browser.
"Jack Tarr The Sailor"

CD Reissue | 2008 | Sbme | amazon ]


Original Vinyl | 1969 | Columbia | ebay ]


MP3 Album | download ]
Also Recommended