The Byrds "Sanctuary I-IV"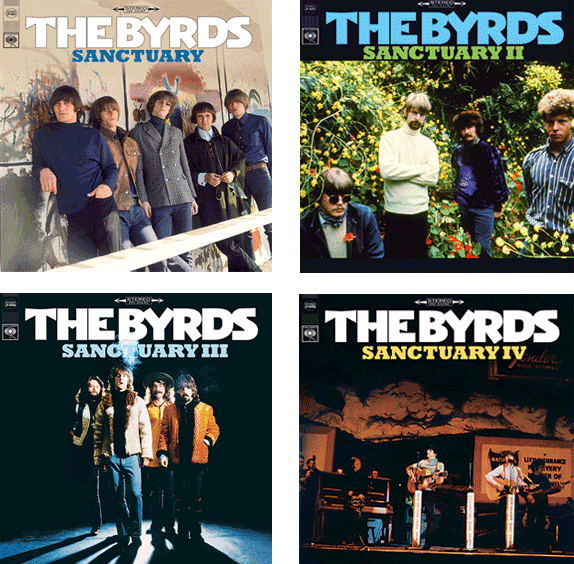 When it comes to the major rock bands of the sixties, The Byrds are maybe the most divisive in terms of modern day respect. I've read arguments claiming their sound is long past dated, or they were only able to survive because of Bobby Dylan's songwriting. At the same time I've often heard of their revolutionary style and long spread and lasting influence.
The best records often sink in gradually, the sound slowly nestling into the corners of your mind, and the Byrds were never quick to grab me. It's Sundazed's Sanctuary collection that's turned me all the way around, the beauty of the Byrds now ringing in full, clear, vinyl glory. Hearing these alternate takes and unreleased cuts set in album format is like hearing the Byrds for the first time. A fresh take that I might even recommend to complete Byrd n00bs.
Sanctuary I
Outtakes from the first Byrds sessions at Columbia Studio A for the albums Mr. Tambourine Man, Turn Turn Turn, and 5D. There's something about hearing the hits from those albums that can turn you off from a thorough listen. Songs that have been friends with the radio since the sixties can have the effect of a television commercial to dedicated album explorers. Loaded with unissued tracks, Sanctuary avoids this issue altogether. My standout track from the first LP is the first version of the B Side from the Turn! Turn! Turn! single, She Don't Care About Time. Truth is, I'm a sucker for absolutely anything by Gene Clark.
Audio clip: Adobe Flash Player (version 9 or above) is required to play this audio clip. Download the latest version here. You also need to have JavaScript enabled in your browser.
"She Don't Care About Time"
Sanctuary II
From Younger Than Yesterday, Notorious Byrd Brothers, and Dr. Byrds & Mr. Hyde.  Sanctuary II is comprised of alternating instrumental and outtake tracks. It's fantastic to hear the backing tracks, a la the Beach Boys' Stack-O-Tracks, but not so many that it overwhelms the release. Several pieces showcase Roger McGuinn's work with the Moog. This is the sound of the Byrds at their most unique and interesting stage, I'll take any recording I can get my hands on.
Audio clip: Adobe Flash Player (version 9 or above) is required to play this audio clip. Download the latest version here. You also need to have JavaScript enabled in your browser.
"This Wheel's On Fire"
Sanctuary III
This is my favorite of the series. Things had changed by the time the Byrds were recording their Ballad of Easy Rider and Untitled LPs (Roger McGuinn was the only remaining original member), but the full time commitment of Clarence White's guitar for these sessions elevates the group to a whole nother level. It's told that CW turned down a gig with the Burrito Brothers to be a Byrd, and to my ears some of the tracks on Sanctuary III may be among his best recordings, wrangling wild new sounds from his B-Bender throughout. The alternate mix of Ballad of Easy Rider to open this one is positively sparkling and I can't get enough of Build It Up, a CW instrumental track inspired by Buck Owens' Bakersfield sound.
For more on Clarence White, don't miss an amazing series of posts at Adios Lounge.
Audio clip: Adobe Flash Player (version 9 or above) is required to play this audio clip. Download the latest version here. You also need to have JavaScript enabled in your browser.
"Build It Up"
Sanctuary IV
Simply a must for Sweetheart devotees, Sanctuary IV puts a host of gems to vinyl from the sessions behind their most revered and uncharacteristic album. Any further glimpse into Gram Parsons' foray with the Byrds is a must. Pretty Polly is fascinating to hear electrified, seamlessly fusing traditional country with Byrdsian folk rock. One Hundred Years From Now is excellent even at this lazy slow pace.
Audio clip: Adobe Flash Player (version 9 or above) is required to play this audio clip. Download the latest version here. You also need to have JavaScript enabled in your browser.
"One Hundred Years From Now"

180 Gram Vinyl | get Sanctuary at Sundazed ]
Question
Byrds. Love em or hate em? What's better, Dylan originals or the Byrds' covers?
Also Recommended