The Carpenters "A Song For You"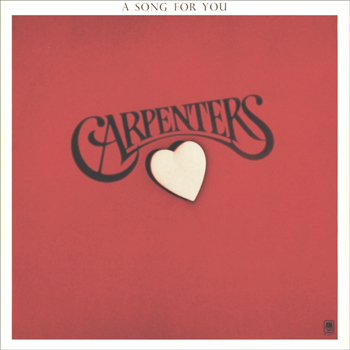 There is always a time and place when this will be the perfect record to put on. Many could use a little Carpenters in their collection, and this hit-studded near-concept album is their best work. You have to let down your guard and forget what you know about this group; they sound a little slick, sure, but they perform good honest songs, aren't afraid of a little humor, and that voice…
My god, Karen Carpenter slays them all. American Idol losers and winners alike have never approached this type of talent, and I always think of Karen, somehow, when comparing the wannabes. There is a flippancy in her wide range, a lazy accent or something, as she didn't care, we'll act formal later. Listening to her sing Leon Russell's A Song For You, the opener on this record, has become a ritual; could anybody top this version?? I'll take it any day, sax solo, over-the-top affected chorus and all.
The first five tracks on the record represent the stages of a love-gone-wrong relationship. You can tell just by the titles: 1. A Song For You, 2. Top Of The World, 3. Hurting Each Other, 4. It's Going To Take Some Time, 5. Goodbye To Love. Wow, what a great set of tunes. It's worth noting that Top Of The World went to #1 and is a great, fun song with smooth country stylings. You will most likely recognize a few of these gems from scattered radio play and other recordings.
After a goofball 'Intermission' we have Side B, featuring a less serious set but still top-quality stuff. Richard Carpenter gets to shine a bit on this side, with his instrumental Flat Baroque and lispy vocals on Piano Picker. Piano Picker is hilarious, I must say, an ode to Richard Carpenter's dedication to "banging on the keys" in lieu of "playing with the football." This is the kind of song you put on as a joke, though I can't explain why I know all of the words.  If you want to try on some classic soft rock, this is the record for you.
Audio clip: Adobe Flash Player (version 9 or above) is required to play this audio clip. Download the latest version here. You also need to have JavaScript enabled in your browser.
"A Song For You"
[ Buy from Amazon
| Search eBay ]
Also Recommended