The Downliners Sect "The Country Sect"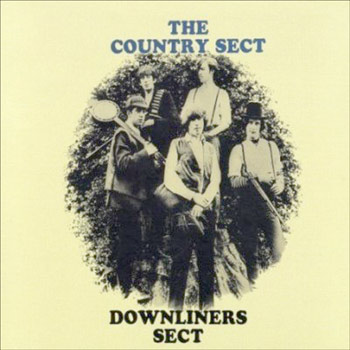 Sandwiched in between two great mod punk/garage blues albums and some classic singles is Country Sect, the Downliners Sect's second album released way back in 1965. This is one of the earliest country rock records and most definitely the first by a British band.
When the album was released it met with critical backlash and was considered a commercial suicide. Listening to this music today, 40 plus years later, it sounds fresh and unlike anything in the country rock canon. Just imagine four or five drunk Brits playing their favorite old country and blues songs in the basement (essentially a monumental country album made in the garage with genuine redneck spirit) but with focus and intensity.
The intensity reaches a peak with an excellent country blues cover Rocks In My Bed. This composition is raw as hell and feature's some old fashioned piano and crazied Don Craine screaming. Hard Travellin' is similar in mood and is a life affirming sh*t-kicking country rocker. Also, Ballad Of The Hounds, Above And Beyond and Wait For The Light To Shine really capture that backwoods sound effectively and some other numbers are even augmented with banjo and washboard. They throw in a sensitive folk-rock protest number with Little Play Soldiers and hark back to their British Invasion roots with the mysterious, uncertain Bad Storm Coming.
These guys were really one of the ultimate punk bands; they did what they pleased and made no apologies. You can hear and feel this attitude throughout the album. Country Sect is so special, so different, it's the kind of record that is misunderstood more often than most. Give it some time though and you'll hear why musicians like Billy Childish rave about the Downliners Sect and this superb album.
Audio clip: Adobe Flash Player (version 9 or above) is required to play this audio clip. Download the latest version here. You also need to have JavaScript enabled in your browser.
"Bad Storm Coming"
[ Buy from Amazon
]
Also Recommended