The Fallen Angels "The Fallen Angels"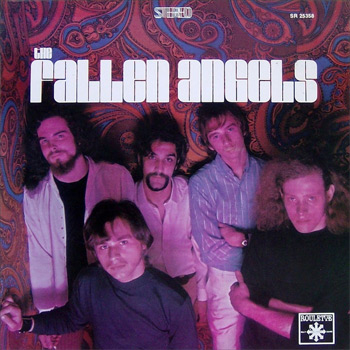 The Fallen Angels were Washington D.C.'s greatest contribution to 60s rock.  They only released 2 LPs and several singles but their reputation as the area's best act transcends this limited output.
While It's A Long Way Down is their best offering, their first Roulette album, The Fallen Angels (1967/1968-) is packed with great songs and tight performances.  Admittedly, there are a few weaker jugband-type tracks (just two) but one can't deny the sublime psychedelic power of rocker "Room At The Top," the moody "Love Dont Talk To Strangers," and trippier cuts like "Introspective Looking Glass."  The group could lay down a groove with the best of them but on LP they favor songcraft over noodling.  Jack Bryant's moody vocals and the album's interesting production tricks catch the ear first but the group's energetic drive, personal lyrics and catchy melodies will win you over in the end.  Personal favorites are the sweeping psychedelic folk-rocker "Most Children Do" and a great acid pop floater with distorted vocals titled "Painted Bird."  The first of these, "Most Children Do" is really a fabulous mellow folk cut that's spruced up with horns and sitar.  Harder cuts "You Have Changed" and "I've Been Thinking" lean toward the garage psych end of the spectrum but are no less essential.  Also, check out the bizarre Mothers of Invention influenced "Your Friends Here In Dundersville."
While not an all-time classic on par with It's A Long Way Down (nor is it as moody or intense as this title), The Fallen Angels is still a good album by a psychedelic group whose music has held up quite well – they were one of America's best unknown psych rock groups.  Try to look for the vinyl reissues as the Collectables cds are marred by poor sound quality.
Audio clip: Adobe Flash Player (version 9 or above) is required to play this audio clip. Download the latest version here. You also need to have JavaScript enabled in your browser.
"Most Children Do"

Original Vinyl | 1967 | Roullette | search ebay ]
Also Recommended