The Fugs "Village Fugs"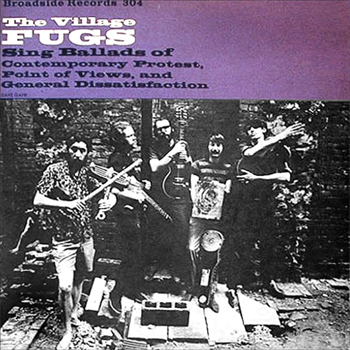 This is also known today as The Fugs First Album. These guys weren't really musicians, certainly not vocalists, they were beat poets and activists that wanted to be musicians. The record was made possible because their friend Harry Smith, curator of the Anthology of American Folk Music, convinced Folkways to let them record in their studio. Thank you, Harry Smith.
A classic. What we have here is not only a genuine artifact from the downtown 60s scene, but actually a pretty listenable record. The Fugs pumped up their line up for this record with Peter Stampfel and Steve Weber from The Holy Modal Rounders (pictured right), and Steve even contributed one of the Fugs most well loved songs, Boobs A Lot. Ed Sanders and Tuli Kupferberg are the real poet masterminds behind the Fugs, however, and their songs are often offensive or hilarious, concerning sex, drugs, and politics.
This album should be viewed along side another album called Virgin Fugs, which is a bootleg containing outtakes from the same recording sessions. Songs vary from stony diatribe drones to loose pop songs like Supergirl, one of my favorites. And I've always got a big kick out of Nothing: "January nothing, February Nothing… Reading nothing, writing nothing, even arithmetic, nothing… Harry Smith and Allen Ginsberg, Nothing Nothing Nothing." The aesthetic of the Fugs is instant punk, not the sound particularly, but the do-it-yourself approach. The sound of Village Fugs teeters between that of a skiffle group and an amateur R&B combo. The percussion is always plentiful and varied, like they raided some restaurant's kitchen, and Ken Weaver rounded it out on the drums.
It may not be music you put on to relax to, or set the mood, or dare to DJ with… but you have to hear it!
Audio clip: Adobe Flash Player (version 9 or above) is required to play this audio clip. Download the latest version here. You also need to have JavaScript enabled in your browser.
"Supergirl"
[ Buy from Amazon
| Search eBay ]
Also Recommended