The Gants "Gants Again"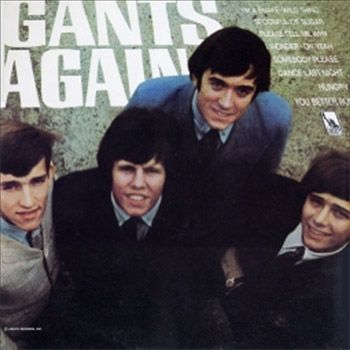 The Gants were a mid 60s garage/folk-rock band from Mississippi whose biggest commercial success was a billboard charting cover of Bo Diddley's "Road Runner." This minor hit was enough to secure them the release of 3 LPs on Liberty, Gants Again being the third. Lack of original material and a sound that's often far too derivative of their British heroes (especially the Beatles) keeps it from being a great album by any stretch. But there are many fine moments here.
Wonderful tracks like "I Wonder" and the moody, near suicidal "Somebody Please" prove that they certainly had tons of potential. And it really is unfortunate because an album's worth of originals on par with these tracks may have ranked up there with the Nightcrawlers LP or the Beau Brummels vol. 2. Not that all the cover tunes are boring. Some ("Rain" and "You Better Run") are actually very well done and breathe new life into the songs. But it still leaves the listener longing to hear what the Gants and other groups of this ilk would have sounded like if they were given more creative license instead of having managers and labels pad up their records with mediocre filler.
Unless you stumble across this in a bargain bin (or for less than ten bucks), you're better off grabbing the Bam Caruso collection I Wonder which compiles the best material from all three albums, including some cool unreleased forays into baroque pop.
Gants Again
Audio clip: Adobe Flash Player (version 9 or above) is required to play this audio clip. Download the latest version here. You also need to have JavaScript enabled in your browser.
"I Wonder"

CD Compilation | 2000 | RPM Records | buy from amazon
 ]


Original Vinyl | 1966 | Liberty | search ebay ]
Also Recommended