The Golden Earrings "Winter Harvest"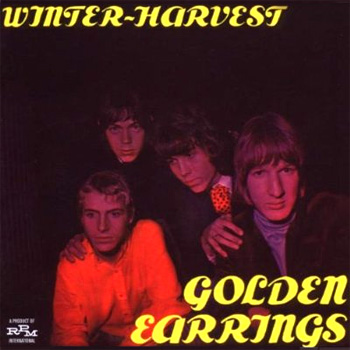 Winter Harvest has 14 tracks from one of Holland's most popular classic rock groups, The Golden Earrings.  These songs were cut in 1966/1967, during the group's forgotten early phase.  While all 60s Golden Earrings albums are pretty strong, Winter Harvest is probably the most consistent of the bunch.  While Just Earrings (1965) was a very enjoyable beat album, this disc sees the group branching out into soul, folk-rock and hard rock/freakbeat – think Happy Jack, Rubber Soul, Face to Face or From the Beginning (The Small Faces).
The band delivers Winter Harvest with a special confidence and maturity.  This is one of the essential Nederbeat/Dutch 60s albums, along with releases by the Outsiders, the Q65, the Ro-d-y's, Les Baroques, Sandy Coast and Group 1850.  No two songs sound alike and the performances are air tight.  My favorite cuts are the tough garage rockers "You've Got the Intention to Hurt Me" and the superb "Baby Don't Make Me Nervous."  There's plenty of choatic guitar work, moody vocals and swelling organ on these two gems.  Other worthy cuts are the Beatles/Kinks influenced "In My House", the blue-eyed soul of "Smoking Cigarettes" and two catchy folk rockers, "Lionel the Miser" and "Happy and Young Together."  Another great cut, "You Break My Heart," stands out for its harpsichord playing and ethereal ambience – it's one of the prettiest songs in the Golden Earrings' catalog.  The whole album is good all the way through; a hidden gem of mid 60s rock n roll.
I must admit, it took me a while to warm up to Winter Harvest.  At first I thought it was a little derivative of the British Invasion groups, which it is – those groups were highly influential in their day.  That being said, the overall quality shines through and it's an album I throw on quite often.  The most recent RPM reissue includes relevant singles from around the time this album was recorded.
Audio clip: Adobe Flash Player (version 9 or above) is required to play this audio clip. Download the latest version here. You also need to have JavaScript enabled in your browser.
"Baby Don't Make Me Nervous"

Original Vinyl | 1967 | Polydor | search ebay ]


CD Reissue | 2009 | RPM | buy here ]
Also Recommended